Shi'a descended on Karbala, where Imam Hussein is believed buried, to take part in ceremonies marking the major festival of Ashura.
About 20,000 people marched between the Hussein shrine and another dedicated to his brother, Abbas, about 1 kilometer away.
Some slapped chains across their backs until their clothes were soaked with blood, while others beat their heads with the flat side of swords and knives.
Hussein was the grandson of Islam's Prophet Muhammad and was killed by rivals for leadership of the Muslim community, during a 680 A.D. battle in Karbala.
Hussein's death cemented the split in Islam between Shi'ite and Sunni Muslims.
Authorities hope to prevent Sunni Arab suicide bombers targeting the event as they have done during the previous two years.
(AP)
Iraq's Kurdish Region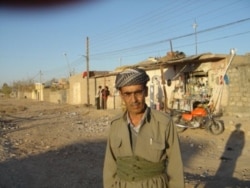 KURDISH AWAKENING: The ethnic Kurdish region in the northern part of Iraq has struggled in recent years to reestablish its cultural and political identity after decades of oppression under the regime of deposed Iraqi President Saddam Hussein. In December, RFE/RL correspondent Charles Recknagel traveled to this area and filed several reports:
Relative Peace Underscores Issue Of Kurdish Region's Future
Kurdish Culture Begins To Flourish In Kurdistan Region
Kurds Ponder How To Strengthen Autonomy After Elections