The blast took place in the neighborhood of Dora. It was one of several bombings across Iraq that killed a total of at least 27 people today. The suspected Dora bomber has been arrested.
Dora is among the most dangerous neighborhoods in Baghdad, where car bombings and roadside bombs have been a daily occurrence since a Sunni-dominated insurgency began in the summer of 2003.
Earlier today, Britain's foreign secretary told Iraqi leaders they must form a government free of domination by a single group.
Foreign Secretary Jack Straw said the results of the 15 December parliamentary election showed the Iraqi people want a broad government of national unity to bring together all the different elements of Iraqi society.
(compiled from agency reports)

Iraqi Election Poster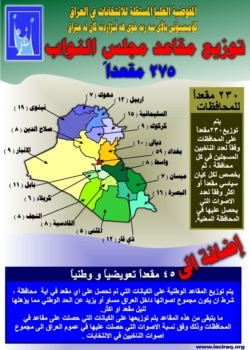 Click on the poster for an enlarged image.
The Iraqi Independent Electoral Commission issued posters in Arabic and the two dialects of Kurdish on the allocation of National Assembly seats by governorate for the 15 December National Assembly election. The poster says, "230 seats for the governorates, as well as 45 compensatory and national seats," while the corresponding map shows the breakdown of seats by governorate.
For more background on the election, click here .



For a complete archive of RFE/RL coverage, background, and analysis of the December 15, 2005, legislative elections, click here.