UN Urges Iraq To Form 'Fully Inclusive' Government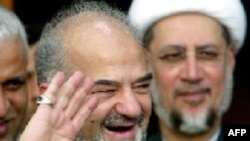 Prime Minister Ibrahim al-Ja'fari is the choice for leader of Iraq's Shi'ite alliance (file photo) (AFP) 14 February 2006 -- The UN Security Council today appealed to all Iraqi political leaders to hasten the formation of a "fully inclusive" government, which it hopes will build a "peaceful, prosperous, democratic, and united" Iraq.
A statement from the 15-member body also urged armed insurgents in Iraq to lay down their arms.
It stressed the need for enhanced international support to assist Iraq's political, economic, and social development.
The statement came after Iraq's dominant Shi'ite alliance voted for current Prime Minister Ibrahim Al-Ja'fari as its candidate for prime minister in the country's first permanent post-Saddam Hussein government.
(AFP)


SUBSCRIBE For weekly news and analysis on Iraq by e-mail,
subscribe to "RFE/RL Iraq Report."