Main Iraqi Shi'ite Bloc Postpones Decision On Premier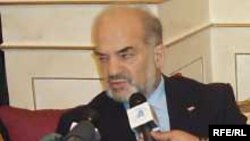 Prime Minister al-Ja'fari is a leading candidate to retain his post (RFE/RL) 6 February 2006 -- A member of Iraq's main political coalition said today the bloc has delayed an announcement of its candidate for prime minister.
The conservative Shi'ite United Iraqi Alliance (UIA) had been expected to announce a candidate today.
But Abbas al-Bayati of the Supreme Council of the Islamic Revolution in Iraq (SCIRI), one of the main UIA members, said the alliance had postponed the decision until after the 10-day Ashura Shi'ite festival culminates this week.
The UIA was the largest political bloc to emerge from Iraq's parliamentary elections in December, taking 128 of the 275 legislative seats.
The bloc has already announced four possible candidates for the prime ministerial post, including current Prime Minister Ibrahim al-Ja'fari
(AFP)