Two of the 12 Shi'ite imams -- Imam Ali al-Hadi, who died in 868 A.D., and his son, Imam Hasan al-Askari, who died in 874 A.D. -- are buried at the mosque. The complex also contains the shrine of the 12th imam, al-Mahdi, who is said to have gone into hiding through a cellar in the complex in 878, and is expected to return on Judgment Day.
Both the Ansar Al-Sunnah Army and the Mujahedin Shura Council -- an alliance of terrorist groups that includes
Abu Mus'ab al-Zarqawi's Al-Qaeda-affiliated group
-- are suspected in the attack. Both groups have insurgents operating in Samarra, and have claimed responsibility for attacks against U.S. and Iraqi forces there in recent weeks. Just like the assassination of revered
Shi'ite Ayatollah Muhammad Baqir al-Hakim
in Al-Najaf in 2003, no group has claimed responsibility for the Samarra attack.
The Shi'ite Response
Shi'ite Grand Ayatollah Ali al-Sistani immediately called for seven days of mourning following the attack, and urged Shi'a to take to the streets in peaceful demonstrations protesting the attack. The cleric, who rarely appears in public, could be seen on Iraqi state television in a meeting with other leading ayatollahs.
The mass demonstrations -- tens of thousands took to the streets of Baghdad, Al-Najaf, Kut, Al-Kufah, and Samarra -- were accompanied by violence. Reprisal attacks against Sunnis were reported across the country.
More violence can be expected. Shi'ite cleric Muqtada al-Sadr, who was in Lebanon as part of a regional tour, headed back to Iraq to join his supporters, who were already out in full force. Media reports have suggested that demonstrators in several cities cited the ongoing occupation as the cause of the attack.
Speaking to Al-Jazeera on 22 February, al-Sadr blamed all parties to the ongoing Iraq conflict for the attack. "It was not the Sunnis who attacked the shrine of Imam Al-Hadi...but rather the occupation; the takfiris [those who accuse other Muslims of being infidels], Al-Nawasib [a derogatory reference to Sunnis referring to those who declare hostilities against others]...and the Ba'athists," he said. "We should not attack Sunni mosques. I ordered the [Imam] Al-Mahdi Army to protect the Shi'ite and Sunni shrines and to show a high sense of responsibility, something they actually did."
When the dust settles, more questions will come to light. For example, according to media reports, the attackers were dressed in Interior Ministry commando uniforms when they entered the mosque. Sunni Arab leaders have been blaming Interior Ministry forces for dozens of kidnappings and killings of Sunnis in recent months, claiming the ministry's Shi'ite forces use the cover of their uniforms to "arrest" Sunni Arabs who later end up dead on roadsides.
Sporadic media reports last year suggested that Sunni insurgents tied either to the Hussein regime or Al-Qaeda were disguising themselves as security forces to carry out attacks on Sunni Arabs in an attempt to instigate a sectarian war. The reports from Samarra suggest that such tactics may have been employed in this case.
Government Urges Calm
As Shi'a took to the streets in mass protests across Iraq, government officials were quick to condemn the attack, calling a three-day period of mourning. Blaming Al-Qaeda-affiliated militants, officials called for calm, urging Iraqis to remember that the mosque was part of the unified national heritage, and was targeted by insurgents hoping to spark a civil war.
Remarks by President Jalal Talabani indicate the level of concern by government officials. Talabani told reporters at a 22 February press briefing in Baghdad that Iraqis should "strive to avoid any more tension and friction." Saying, "I am here for all Iraqis," Talabani said his door is open to all groups, including insurgents, for dialogue. Speaking about deposed Iraqi President Saddam Hussein's family, Talabani said he offered shelter to Hussein's family when no one else would. "We are generous even with those who are against us."
Meanwhile, U.S. Ambassador to Iraq Zalmay Khalilzad issued a statement saying the United States would contribute to the rebuilding of the mosque, calling the attack a crime against humanity.
Sunni Arab leaders also condemned the attack. Adnan al-Dulaymi, head of the Iraqi Accordance Front, told Al-Arabiyah television that the denunciation by groups such as the Sunni Waqf (Endowment) Office, the Iraqi Islamic Party, and the Muslim Scholars Association have been ignored by Shi'ite protesters. Al-Dulaymi demanded the government call a curfew to prevent attacks on Sunni mosques, and said mobs had already attacked mosques in Baghdad, Al-Basrah, and Al-Diwaniyah.
The government's ability to control the crisis in the coming days will be key to staving off a broader civil conflict. Tensions were already high in Iraq before the attack, as diverse groups faced off over the composition of the incoming cabinet. With the majority of Iraqis off work during the government-declared mourning period, violence could spread even further, especially following Friday prayers on 24 February, making it difficult for Iraqi and multinational forces to contain the situation in many of Iraq's multiconfessional cities this time.
Shi'ite Shrines In Samarra
Shi'ite Shrines In Samarra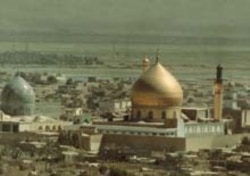 The Golden Mosque before the 22 February bombing (courtesy photo)

UNDER THE GOLDEN DOME: The Iraqi city of SAMARRA is the site of two major Shi'ite shrines. Consecrated in 852, the Golden Mosque is said to hold the remains of two Shi'ite imams: Ali al-Naqi and his son, Hasan al-Askari. A second shrine marks the place where the hidden -- or 12th -- imam, al-Mahdi, son of Hasan, went into hiding.
Imam Ali and Hasan were imprisoned in Samarra, the capital of the Abbasid Dynasty, by Al-Mutawakkil Ala Allah Jafar bin al-Mu'tasim (821-861), who is considered the last great Abassid caliph.
According to historical accounts, al-Mutawakkil felt threatened by the growing influence of Shi'ite Islam and Imam al-Naqi, who was based in Medina. Al-Mutawakkil thus brought Imam Ali and Hasan to Samarra in 848 and imprisoned them inside a military fort. Henceforth they became known as al-Askari (military) because of the location of their imprisonment.
Following al-Mutawakkil's death in 861, his successor had Imam Ali poisoned in 868. Hasan died in 874.
Imam Ali al-Naqi -- the 10th Shi'ite imam, commonly referred to as Imam Ali al-Hadi -- and his son, Hasan al-Askari, the 11th imam, are buried under the Golden Dome, which was a gift from Persian ruler Nasr al-Din Shah (1848-96). The dome's construction was completed in 1905. Also buried in the shrine are Hakimah Khatun, the sister of Imam Ali, and Nargis Kahtun, Imam al-Mahdi's mother.
The second shrine in the complex marks the place where Shi'a believe Imam al-Mahdi (b. 868), the 12th and final imam, went into hiding. According to Shi'ite tradition, Imam al-Mahdi, the son of Hasan al-Askari descended into a cellar under the present-day shrine and disappeared. Shi'a believe that he never died, and he will return on Judgment Day.
MORE: For more information on Shi'ite and Sunni sectarianism in Iraq, see:
Sunni-Shi'ite Tensions High On Eve Of Arab Conference
A Nation Finds Itself At A Crossroads
The Growing Sunni-Shi'a Divide