One of today's first attacks was a car-bomb blast at a market in the Shi'ite holy city of Karbala. A police officer approached a parked car, one eyewitness said, and when he tried to open the trunk, the bomb exploded.
At least four people were killed and dozens more injured. But it could have been much worse.
"We immediately transferred the casualties from the blast," one medical officer said. "I myself took an injured child to hospital. Thank God the casualties were few."
Meanwhile, other attacks around the country claimed more lives.
Shortly before the Karbala blast, gunmen stormed a house north of Baghdad and killed 12 members of one family, most of them Shi'a.
In Baghdad, at least two people were killed in a bomb attack on the funeral procession of a journalist from Al-Arabiyah television who was killed as she reported from Samarra on 22 February.
And after overnight gun battles around Sunni mosques in the capital, the bodies of 14 police commandos were discovered near one of the sites.
Sliding Toward Civil War?
The incidents are the latest in a wave of violence following the bombing on 22 February of the Golden Mosque in Samarra, one of Shi'ite Islam's most important shrines.
The attacks came despite extra security measures in Baghdad and surrounding areas, including a daytime curfew.
It's all heightened fears that Iraq may be sliding toward civil war.
Today, Iraqi Defense Minister Sa'dun al-Dulaymi called for calm in a press conference broadcast live on television.
And he had a stark warning. "If there is a civil war in this country," he said, "it will never end."
Earlier, on 24 February, U.S. President George W. Bush joined in calling for calm, saying this was a moment of choosing for the Iraqi people.
"We can expect the days -- coming days will be intense. Iraq remains a serious situation," Bush said. "But I'm optimistic, because the Iraqi people have spoken, and the Iraqi people made their intentions clear."
In an effort to contain the violence, the Iraqi government says a ban on car travel in Baghdad has now been extended until 27 February.
(compiled from agency reports)
Shi'ite Shrines In Samarra
Shi'ite Shrines In Samarra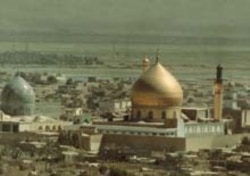 The Golden Mosque before the 22 February bombing (courtesy photo)

UNDER THE GOLDEN DOME: The Iraqi city of SAMARRA is the site of two major Shi'ite shrines. Consecrated in 852, the Golden Mosque is said to hold the remains of two Shi'ite imams: Ali al-Naqi and his son, Hasan al-Askari. A second shrine marks the place where the hidden -- or 12th -- imam, al-Mahdi, son of Hasan, went into hiding.
Imam Ali and Hasan were imprisoned in Samarra, the capital of the Abbasid Dynasty, by Al-Mutawakkil Ala Allah Jafar bin al-Mu'tasim (821-861), who is considered the last great Abassid caliph.
According to historical accounts, al-Mutawakkil felt threatened by the growing influence of Shi'ite Islam and Imam al-Naqi, who was based in Medina. Al-Mutawakkil thus brought Imam Ali and Hasan to Samarra in 848 and imprisoned them inside a military fort. Henceforth they became known as al-Askari (military) because of the location of their imprisonment.
Following al-Mutawakkil's death in 861, his successor had Imam Ali poisoned in 868. Hasan died in 874.
Imam Ali al-Naqi -- the 10th Shi'ite imam, commonly referred to as Imam Ali al-Hadi -- and his son, Hasan al-Askari, the 11th imam, are buried under the Golden Dome, which was a gift from Persian ruler Nasr al-Din Shah (1848-96). The dome's construction was completed in 1905. Also buried in the shrine are Hakimah Khatun, the sister of Imam Ali, and Nargis Kahtun, Imam al-Mahdi's mother.
The second shrine in the complex marks the place where Shi'a believe Imam al-Mahdi (b. 868), the 12th and final imam, went into hiding. According to Shi'ite tradition, Imam al-Mahdi, the son of Hasan al-Askari descended into a cellar under the present-day shrine and disappeared. Shi'a believe that he never died, and he will return on Judgment Day.
MORE: For more information on Shi'ite and Sunni sectarianism in Iraq, see:
Sunni-Shi'ite Tensions High On Eve Of Arab Conference
A Nation Finds Itself At A Crossroads
The Growing Sunni-Shi'a Divide