Croat On Trial Over 1983 Killing Of Yugoslav Dissident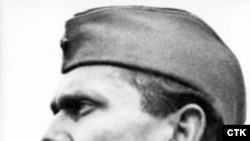 Yugoslav leader Josip Broz Tito pictured during World War II (file photo) (CTK) March 8, 2006 -- A Croat is on trial in the German city of Munich charged with complicity in the murder of an opponent of the Yugoslav government 23 years ago.
The Croat, known only as Krunoslav P., is alleged to have helped the former Yugoslav secret service (SDB) assassinate the exiled Croat writer Stjepan Durekovic in June 1983.
During the trial, which began on March 6, prosecutors said the accused lured the victim to a printing works near Munich where he was shot six times and hit over the head with an ax by unidentified Yugoslav agents.
Durekovic left Yugoslavia in 1982 for political reasons and settled in Germany where he wrote books and articles condemning the regime in Belgrade.
The accused admitted passing on information about Croat exiles to an SDB contact man and giving him a key to the printing works. However, he denies any involvement in Durekovic's death.
(dpa)