Limited Press, Religious Freedom In Armenia, Says U.S.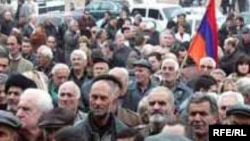 An opposition rally in Yerevan, Nov, 2005 (RFE/RL) March 8, 2006 (RFE/RL) -- The U.S. State Department today said that Armenia's human rights record showed some improvements last year, but that serious problems remained.
Among abuses the State Department mentioned in its annual report on human rights worldwide are limited press and religious freedom, harassment of homosexuals, hazing-related deaths in the military, and police abuses against pretrial detainees.
Other matters of concern include abridged rights of citizens to change their government, reported forced and compulsory labor, and poor prison conditions.
Positive changes include the November 27 referendum that brought changes to the existing constitution with a view to transferring part of the president's prerogatives to the parliament and strengthen the judiciary.
The State Department says that although the referendum was seriously flawed, the amendments represented a step toward establishing a democratic system of checks and balances.
For an overview of the State Department report, click here.