Georgian Opposition Parliamentarians On Hunger Strike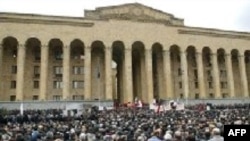 Traders demonstrate on March 9 in front of the Georgian parliament at new government regulations (AFP) March 10, 2006 -- Reports from Georgia say five opposition parliamentarians have started a hunger strike in a bid to compel the government to rescind its decision to require cash registers at all marketplaces.
The five include leaders of the Democratic Front coalition and a representative of the New Rightists party.
They began their protest shortly after an estimated 3,000 market traders demonstrated in front of the parliament building in Tbilisi.
In a bid to curb tax evasion, the government has made cash registers mandatory at all markets since March 1. It has threatened impose heavy fines on traders who fail to do so. Traders want expensive cash registers to be replaced with a monthly tax.
Meanwhile, hundreds of traders have gathered in front of the parliament building in Tbilisi in protest.
An estimated 3,000 market traders staged a similar demonstration on March 9, but Prime Minister Zurab Noghaideli has ruled out any discussion with the protesters.
(Imedi TV, Civil Georgia, Novosti-Gruziya)

SUBSCRIBE For weekly news and in-depth analysis on Armenia, Azerbaijan, Georgia, and Russia's North Caucasus by e-mail,
subscribe to "RFE/RL Caucasus Report."