Oil Spill Cleanup Continues In Bashkortostan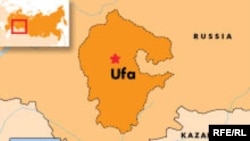 (RFE/RL) March 10, 2006 -- Officials say a cleanup operation following an oil spill in Russia's central republic of Bashkortostan will take longer than expected.
The oil spill was caused by a rupture in the Nizhnevartovsk-Kurgan-Kuibyshev pipeline on March 8, some 150 kilometers west of the regional capital, Ufa. Officials say they expect the cleanup to continue at least until early next week. Initially, they said it would be completed by March 11.
A spokesman for the republic's Ministry of Natural Resources says analysis shows the concentration of chemicals in one nearby river is 26 times higher than the norm. Chemicals have also been detected in a second river that supplies the town of Tuymazy with drinking water.
Officials say that, for now, there is no danger of Tuymazy's water supply being contaminated.
(ITAR-TASS)



UPDATED CONSTANTLY: Visit RFE/RL's Russian-language website, featuring news, analysis, features, streaming audio, and more, in Russian, from RFE/RL's Russian Service.
ARCHIVE
RFE/RL's English-language
coverage of Russia
.