Ethnic Clashes In Eastern Georgia Leave One Dead
(RFE/RL) March 10, 2006 -- Georgian authorities say clashes in the country's east have left one ethnic Armenian dead and another one wounded.
The Interior Ministry says the incident took place overnight in Tsalka district, which has a mixed population of Armenians, Greeks, Svans, and Azeris.
Georgian media report 24-year-old ethnic-Armenian Gevork Gevorkian was killed during a fight with a group of Svans at a restaurant in Tsalka, the district's chief town. The Interior Ministry could not confirm those reports, but said five suspects had been arrested.
Tsalka district has witnessed several cases of ethnic unrest in the recent past.
(Imedi TV, Novosti-Gruziya, Civil Georgia)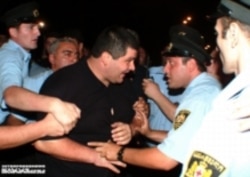 Georgia's police have been accused of using excessive force (official site)


READ
'CULTURE OF IMPUNITY':
Georgian President Mikheil Saakashvili's government has had
a checkered human rights record
since it came to power after the 2003 Rose Revolution. The international community has welcomed the steps taken by the new Georgian leaders to refine the legal mechanisms needed to combat rights abuses. But it also blames the government for failing to ensure those mechanisms are properly implemented
....(more)
RELATED ARTICLES
Rights Group Sees Rise In Police Brutality In Georgia
Citizens See No Improvement In Society, Economy After Revolutions
Helsinki Report Finds Human Rights Problems Plague Entire Region