Security Council States To Discuss Iran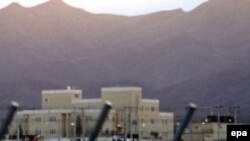 Iran's uranium-enrichment complex at Natanz (file photo) (epa) March 13, 2006 -- Representatives of the five permanent, veto-holding members of the United Nations Security Council are expected this week to hold discussions on the next steps in the Iranian nuclear standoff.
The discussions will take place following a March 12 statement by Iran that a Russian proposal to have Iranian uranium-enrichment work carried out in Russia was no longer on Tehran's agenda.
Iranian Foreign Ministry spokesman Hamid Reza Asefi said conditions had changed and Iran will now wait to see how developments unfold with the permanent members of the Security Council -- Russia, the United States, China, Britain and France.
Foreign Minister Manuchehr Mottaki said Iran had no intention of using its oil resources as a weapon in the dispute.
The Security Council is taking up the Iranian case after the UN's International Atomic Energy Agency sent the council a report saying it could not verify that Iran's nuclear program is purely peaceful. Iran rejects allegations it is trying to make a nuclear weapon.
(Reuters, AP)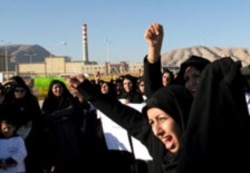 A demonstration in support of Iran's nuclear program outside the Isfahan uranium-conversion facility in Isfahan in January (epa)

IRANIANS SPEAK OUT ON THE DISPUTE: To find out more about what Iranians think about the international controversy over their country's nuclear program, RADIO FARDA asked listeners to express their views....(more)
See also:
Iran: Public Has Mixed Feelings On Nuclear Issue

THE COMPLETE PICTURE: RFE/RL's complete coverage of controversy surrounding Iran's nuclear program.
CHRONOLOGY
An annotated timeline of Iran's nuclear program.