PRAGUE, March 13, 2006 (RFE/RL) -- Not everyone is laboring under the pretense that Belarus's upcoming presidential vote will represent a legitimate political contest.
Some Belarusians interviewed by RFE/RL's Belarus Service on Monday said they thought all candidates in the March 19 were being given equal opportunity to get their message across. Others weren't so sure:
Woman: "It seems to me they get almost the same chance. They've all had equal time on the radio and everything else. We're already bored with all their talk."
Man: "Lukashenka, as president, has better access to the press. But I think the others get a sufficient opportunity to express their thoughts."
Woman: "No, no. It's not equal."
Man: "It's not equal."
Man: "Well, first of all, I think that the incumbent should temporarily resign his duties in order to run for president. Otherwise, all these rallies and the state press have no choice but to promote the president."
Man: "At present, we can't say they're equal. We see that TV and radio are constantly promoting only one candidate -- the incumbent. The others don't have even 5 percent of the opportunities and possibilities that he does."
Even so, the ruling regime of President Alyaksandr Lukashenka appears to be taking no chances when it comes to ensuring election success.
Arresting Opposition Supporters
Riot police on March 12 arrested around a dozen Ukrainian and Belarusian activists attending a Milinkevich rally in the capital Minsk.
Hanna Horozhenko, a television reporter with Ukraine's Channel 5, was reporting live from the rally to news presenter Natalia Moseychuk when she and her cameraman were also apprehended by police. Horozhenko, who began with a straightforward report about the groups attending the rally, broke into horrified screams as she was accosted by police and forced into a law-enforcement van before her mobile phone was cut off.
Horozhenko and her cameraman were released after several hours, following an intervention by the Ukrainian Embassy in Minsk.
But at least two of the Ukrainian activists have been given 10-day jail sentences, and Belarusian authorities have said they will deport any foreigners planning to take part in public rallies aimed at "destabilizing" Belarus ahead of the election.
They have also accused the European Union and the United States of funding the opposition with the aim of fomenting public unrest.
Brussels and Washington deny the claim. But they have already condemned the vote as unlikely to be free or fair, and are watching carefully the run-up to the election.
'Abysmal' Pre-election Climate
In a hearing on March 9, the U.S. Helsinki Commission, a government agency, criticized as "abysmal" Belarus's pre-election climate, and warned Lukashenka to refrain from postelection violence against peaceful demonstrations.
Among the hearing's speakers was Belarusian student activist Iryna Vidanova, who said the country's youth would play a "key role" in the elections.
"In Belarus, young people are the most open-minded, tolerant, and pro-European segment of the population. It should come as no surprise that a December survey found that more than one-third of those supporting the democratic candidate Alyaksandr Milinkevich were under 30. Belarus has a very young society, and many of these young people will vote for the first time. But 77 percent of young people doubt that the elections will be fair," Vidanova said.
Arrests like those on March 12 underscore the lack of public trust in the upcoming vote. They were just the latest actions by Lukashenka's camp to silence opposition voices ahead of the ballot, which formally begins on March 14 with early voting.
In recent weeks,scores of opposition supporters have been arrested, fined, or otherwise harassed. Authorities have cracked down on nonstate newspapers and censored television appearances by Lukashenka's political rivals.
Belarusian special forces went so far as to physically assault the second opposition candidate in the race, Alyaksandr Kazulin, after he tried to enter a building where Lukashenka was holding a political assembly in early March.
'Colored Revolutions'
Following the sweep of "colored revolutions" that brought political transformation to Ukraine, Georgia, and Kyrgyzstan, many had hoped Belarus would follow suit with a youth-driven "denim revolution" of its own.
But many in Belarus concede the country -- which under Lukashenka has enjoyed economic and social stability -- is not yet ready for such an uprising.
Svyatlana Aleksiyevich, a Belarusian writer and passionate commentator on Belarusian society, told RFE/RL's Belarus Service she has little hope this week's election will bring change to the country: "I'm afraid that it seems to me that we don't have the kind of internal strength to beat this situation. That is primarily because the state is strong -- and also brazen, let's put it like that. I've already said that [former Ukrainian President Leonid] Kuchma didn't shoot on his own people. [Uzbek President Islam] Karimov -- he did. So let's think, what kind of government do we have? For example, as far as I understood, at a recent large gathering, they said troops would have automatic rifles with which to defend this government. In fact, they're talking about defending a single person."
Milinkevich has asked supporters to join him in central Minsk after polls close on March 19 -- not for a revolution, but simply to "defend their choice."
But the country's top police official, Vladimir Naumov, has said all rallies will be banned on election day. He has vowed to use "all means within the law" to disperse protesters.
Arrested On The Air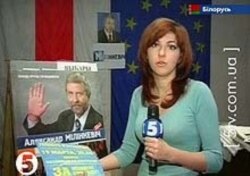 Hanna Horozhenko in a Channel 5 publicity photo

HANNA HOROZHENKO is a reporter for the Kyiv-based Channel 5, which played a crucial role in breaking the information blockade in the Ukrainian state run media during the Orange Revolution protests in Ukraine in November-December 2004.
Although Horozhenko was accredited by the Belarusian Foreign Ministry to cover the presidential election campaign in Belarus, she was arrested in Minsk on March 12, immediately after a meeting with some 2,000 voters held by united opposition candidate Alyaksandr Milinkevich. The arrest came as she was reporting live by the telephone to Kyiv.
LISTEN
Listen to the audio of Horozhenko's report and arrest, provided by Channel 5 (about three minutes):

Real Audio
Windows Media
Horozhenko was detained together with a Channel 5 camera operator and a group of Ukrainian students who came to Minsk from Ukraine to show their support to the Belarusian opposition. Police released her several hours later, following the intervention of the Ukrainian Embassy in Minsk.
"The actions of the OMON [riot police] -- that was really something," Horozhenko told RFE/RL's Belarusian Service after her release. "I have never heard such words addressed to a human being, I have never seen such boorishness. I was shocked."
Belarusian police routinely arrest a dozen opposition activists after every opposition gathering in order to reduce the possibility of post-election protests against the official election results, which are expected to be heavily in Lukashenka's favor.
See also these RFE/RL stories on the media in Belarus:
Independent Newspaper Struggles Against State Interference
EU-Funded Media Broadcasts To Start Before March Elections
Authorities 'Cleanse' Media Ahead Of 2006 Vote




Click on the image to view a dedicated page with news, analysis, and background information about the Belarusian presidential ballot.


Click on the image to view RFE/RL's coverage of the election campaign in Belarusian and to listen to RFE/RL's Belarusian Service.