Official Says Milosevic Will Be Buried In Serbia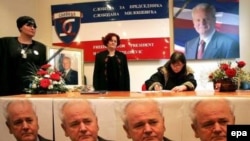 Supporters of Slobodan Milosevic sign a book of condolences in the headquarters of the pro-Milosevic support group "Freedom" in Belgrade, March 12 (epa) March 14, 2006 -- An official in Slobodan Milosevic's political party says the body of the former Yugoslav leader will be flown to Belgrade for a funeral and burial in Serbia.
Milorad Vucelic, vice president of the Socialist Party, said on Serbian television that the decision was made after discussions with Milosevic's wife and son.
Milosevic's legal adviser Zdenko Tomanovic said Milosevic's body would be flown tomorrow from The Hague in the Netherlands to Belgrade.
Dutch pathologists who performed an autopsy say Milosevic passed away on March 11 after suffering a heart attack in his cell at the detention center of the United Nations tribunal in The Hague, where Milosevic was on trial for war crimes and genocide.
(compiled from agency reports)