UNITED NATIONS, March 15, 2006 (RFE/RL) -- Without elaborating on details, John Bolton, the U.S. ambassador to the UN, said discussions now include all 15 members of the Security Council and a draft of a resolution has been distributed to all.
"The British and the French circulated the draft elements that we've been talking about," Bolton told reporters. "There were some preliminary comments. All the other [nonpermanent] members said they would transmit these elements back to their capitals obviously for instruction and any suggestions for changes. And I think we'll probably get together again [all 15 members] informally on Thursday [March 16] afternoon, P-5 [the five permanent council members] will continue discussions tomorrow [March 15] morning."
Agreement Reached On Some Elements
The "elements" he is talking about are part of a draft statement that would urge Tehran to abandon uranium-enrichment attempts, which the United States and some other Western states believe is a cover for the making of an atomic bomb.
Ambassador Cesar Mayoral of Argentina, the Security Council president for March, hinted that there is agreement among all council members on certain parts of the draft, but that there are still parts to be worked out.
"Today we had 15 members starting the discussion," Mayoral said. "We have some elements; the others have the paper of the elements of the draft; that is the only thing they can do."
China And Russia Want Continued Talks
Wang Guangya, China's ambassador to the UN, said China's position is that Iran's compliance with International Atomic Energy Agency (IAEA) recommendations -- and not the threat of sanctions -- will remain the focus of any final draft.
"They [Britain and France] modified their text, made it short, concise, with short, brief political message," Wang said. "They call on the Iranians to cooperate, to comply with the IAEA resolution, support the IAEA authority on this issue, and give the Security Council support for the IAEA, that the IAEA continues to play the main role."
Konstantin Dolgov, Russia's deputy ambassador to the UN, said Russia's position has not changed and that the only acceptable path to resolve the Iranian standoff is through further negotiations.
"We consider that the only [acceptable] venue is negotiations, diplomatic negotiations with the understanding, of course, that Iran must fulfill the IAEA recommendations and must not under any circumstances violate the [nuclear] nonproliferation treaty," Dolgov said. "Iran has its own sovereign rights as any other member state of the [treaty] as well as sovereign right to pursue the peaceful nuclear energy research. We have to find a balance, that's it."
Tehran Still Insists On Its Nuclear Program
Some observers have expressed skepticism that resumed Russia-Iran negotiations will produce results, and view the talks as a ploy by Tehran to win time and delay Security Council action. Iranian President Mahmud Ahmadinejad said on March 14 that Iran will continue with its own nuclear research.
"You have to be sure that nuclear fuel production technology is in the hands of young Iranians today," Ahmadinejad said. "They have reached it themselves and no power can take it back from them."
If divisions within the Security Council continue, the United States, Britain, and France may give up the idea of a joint statement that would require the approval of all 15 members. Instead, they could proceed with a resolution that requires a simple majority, but could be vetoed by any of the five permanent Council members.
What Would Sanctions Mean?
What Would Sanctions Mean?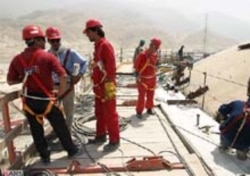 Economic sanctions could further undermine Iran's already shaky economy (Fars)


MOVING TOWARD SANCTIONS: If the United Nations Security Council imposes sanctions on Iran, domestic support for Iranian President Mahmud Ahmadinejad will wane, according to ALEX VATANKA, Eurasia editor for Jane's Information Group.
Vatanka told a February 24 RFE/RL briefing that "economic sanctions will hurt the average Iranian" and, consequently, many "will blame the ruling clerics" for making life difficult and "impairing the country's long term development."
Vatanka said sanctions would be a serious challenge to the Iranian government. If harsh economic sanctions were imposed, Iran's poorest population will be hurt the hardest -- and might react "as they did in the 1970s and protest in the streets." Sanctions on travel, Vatanka said, would hurt a many Iranians because "Iran is a nation of small traders" who depend on the ability to travel to earn an income. According to Vatanka, unemployment in Iran is estimated at 30 percent, "so small trading is essential to survival." Although current U.S. sanctions "haven't worked," he said, "Iranians fear an oil embargo." He stressed that "oil revenues are a major part of the economy, so it is critical to look at this sector."
Should negotiations with the European Union and the UN fail, Vatanka believes that Iran would follow a "North Korea model," since Ahmadinejad's base of support among the "Islamist militias" has been "urging withdrawal from the NPT [Nuclear Non-Proliferation Treaty]." The Iranian government's "tactic" so far, Vatanka said, is governed by the belief that "by shouting the loudest, you'll get concessions [from the West]."
LISTEN
Listen to the complete panel discussion (about 60 minutes):

Real Audio
Windows Media

THE COMPLETE STORY: RFE/RL's coverage of the controversy surrounding Iran's nuclear program.
CHRONOLOGY
An annotated timeline of Iran's nuclear program.