RFE/RL: You have been very active in the struggle for women's rights in your country -- could you tell us about the situation of women in Iran?
Shirin Ebadi: In Iran the number of educated women is higher than men. According to the latest figures that were released this year, more than 65 percent of Iran's university students are girls. But, unfortunately, women haven't had the opportunity really to demonstrate their capabilities, and more men have entered the labor market. The unemployment rate among women is three times higher than among men.
I don't think that women should necessarily lead society; I believe that capable and experienced people, be it women or men, should lead society.
RFE/RL: What is the reason for the high unemployment rate among women in Iran?
Ebadi: In my opinion, it is the patriarchic culture that gives men priority in all issues. Some say that because men have to respond to the financial needs of their family, it's better if we hire men. But when it comes to hiring someone and employment, the focus should not be on the money issue. The emphasize should be on one's capabilities and expertise.
RFE/RL: Islam gives women and men equal rights, but in most Islamic countries women face discrimination. Why is that?
Ebadi: With a correct interpretation of Islam, we can have equal rights for women. But the problem is that there are wrong interpretations of Islam, which cause discrimination against women. That is why the situation for women in various Islamic countries is different. For example, in Saudi Arabia women can't even drive, but in countries such as Indonesia, Pakistan, and Bangladesh women have been able to become prime minister or president. Or, for example, in some countries -- like Iran -- men are allowed to have several wives [up to four] while in other countries, such as Tunisia, it has been banned. This is because there is not a single interpretation of Islam. We need an interpretation of Islam that recognizes women's rights.
RFE/RL: What is your assessment of women's situation in European countries? Do you think women also face problems in Europe?
Ebadi: Unfortunately, yes. Women face problems in Europe and also in the United States. Their problems are different from the problems women face in Islamic countries. In the United States, they still haven't had a woman president, and there are fewer women ministers [than male ministers]. It's the same in Europe. In the Italian parliament, where we are speaking now, only about 10 percent of the deputies are women.
RFE/RL: You said that in Europe and the United States there aren't enough women leaders. Do you think the leadership of a country should be based on gender?
Ebadi: I don't think that women should necessarily lead a society; I believe that capable and experienced people, be it women or men, should lead society. It means that if a woman is capable, she should not be discriminated against just because she is a woman.
RFE/RL: Could you also tell us something about yourself and your private life?
Ebadi:
I am an attorney at law [and] my law office is in Tehran. In addition to my work as an attorney, I also manage three NGOs that I have established. Regarding my private life, I am married and I have two daughters. As a traditional Iranian woman, it is my duty to take care of the housework and the children and I'm still doing it. I'm happy about it, because when I finish my work outside -- and being an attorney is a rough profession -- I enjoy coming home and cooking for my husband and daughters. My husband has always supported me, and without his help and support I couldn't have worked so much.
RFE/RL: Have you ever been to Tajikistan?
Ebadi: Unfortunately not, but I would very much like to because Iran and Tajikistan have many common roots. We have a common language and 100 years ago we all lived together in one place. In fact we are like sisters and brothers. I've heard that Tajikistan is a beautiful country, and I have also heard that [Tajiks] like Persian music.
(translated by Golnaz Esfandiari)
Education And Islam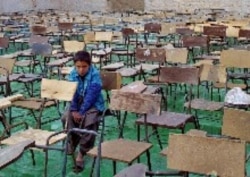 An Afghan child prepares for the first day of school(epa file photo)
KEEPING KIDS IN SCHOOL.
Education raises many vexing social issues in impoverished and predominantly Muslim countries like Afghanistan and the countries of Central Asia. In these countries, many students fail to complete their education for reasons ranging from poverty to discrimination.
"One of the main problems is the distance between the child's home and the nearest school building. This is particularly a problem for adolescent girls because families quite understandably don't feel comfortable allowing the girls to walk long distances unaccompanied to the classrooms," says a UN aid worker in Afghanistan
...(more).
See also:
The Role Of Religion In Classrooms
Madrasahs Reject Government Crackdown Efforts
Madrasahs Lead Religious Teaching Revival

UN Report Finds World's Children 'Excluded And Invisible'