New Iraqi Parliament Sworn In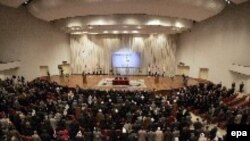 The new Iraqi Council of Representatives being sworn in on March 16 (epa) March 16, 2006 -- Iraq's new parliament was sworn in today following elections three months ago, with parties still deadlocked over who will lead a new government.
The first session lasted just over half an hour and was adjourned indefinitely.
Correspondents say the proceedings were overshadowed by a lack of progress in forming a coalition government among Iraq's competing Sunni, Shi'ite, and Kurdish factions.
Iraq's Shi'ite prime minister, Ibrahim al-Ja'fari, said today he was willing to withdraw his nomination for a second term if asked.
To view RFE/RL's archive of coverage related to the December 2005 legislative elections,
click here.
Ja'fari is under increasing pressure from Sunnis, Kurds, and secular politicians to step aside amid heightened sectarian fighting in recent weeks.
Earlier today, Iraqi police said officers found 25 bodies discarded in various parts of Baghdad overnight.
The killings were apparently part of the continuing wave of sectarian violence.
(Reuters/AFP/dpa)

SUBSCRIBE For weekly news and analysis on Iraq by e-mail,
subscribe to "RFE/RL Iraq Report."