Bosnian Serb Commander Pleads Not Guilty To War Crimes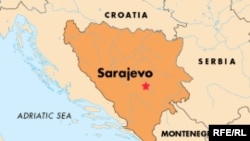 (RFE/RL) March 16, 2006 -- A former Bosnian Serb paramilitary commander today pleaded not guilty to charges of crimes against humanity and war crimes during the 1992-1995 war in Bosnia.
Gojko Jankovic was appearing in a new war crimes court in Bosnia.
Jankovic is the second war crimes suspect to be transferred from the UN's War Crimes Tribunal for the Former Yugoslavia (ICTY) to the Bosnian court.
Jankovic faces nine charges for the murder, rape, detention, and beatings of Muslims near the eastern town of Foca.
Jankovic turned himself in to the ICTY in The Hague a year ago, and was moved to Bosnia in December 2005.
(Reuters, dpa)

SUBSCRIBE
For a regular review of politics, media, and RFE/RL broadcasts in the western Balkans,
subscribe to "RFE/RL Balkan Report."