One of the most influential clerics in Iran, Akbar Hashemi-Rafsanjani, told the powerful Assembly of Experts on March 8 that in the face of plots by "enemies," Iran's national unity must be kept intact. He warned that the comments of some politicians tend to threaten that unity.
Hashemi-Rafsanjani said the United States has been unsuccessful in its efforts to create an atmosphere that is hostile to Iran and has failed to isolate Iran. He warned that, in view of such developments, "we should remain united" and avoid "divisive comments," adding they could "undermine our national unity."
Not Ahmadinejad's Policy Alone
Two days later, hard-line conservative cleric Ahmad Khatami (no relation to ex-President Mohammad Khatami) used the Friday Prayers in Tehran to take the matter further and attack domestic opponents of the nuclear industry directly. He said nuclear energy is needed because oil and gas reserves will run out in two or three decades.
Iran radio carried his words, referring to the critics in Iran of nuclear energy as "idiots." Ahmad Khatami also said the critics "have joined the enemy and helped it at the most sensitive time."
"Our people will never forget these plots and the people who carry them out," he said. "When the time comes, the great Iranian nation will give a harsh response to the insiders who move in the same direction as the enemies, just as it has given decisive responses to foreigners."
Khatami also noted that the current nuclear policy does not relate to Ahmadinejad alone and that it began some years ago. "Our situation these days is not the outcome of a single decision taken today," he said. "The decision was first taken during the previous government's term of office."
Press Stresses Unity
Political figures interviewed in the Iranian press in the following days also stressed the theme of national unity. The pro-reform daily "Farhang-i Ashti" explained on March 11 that "the nuclear dossier has become an excuse for all political groups to once again sit around the negotiating table." The daily went on to note that regardless of a person's political views, "everyone stressed Iran's right to gain access to nuclear technology."
But the daily was concerned that there is disagreement on how to proceed. The paper said the reformist camp advocates continued negotiations, while the conservatives and hard-liners -- more in line with Ahmadinejad -- speak of "resistance and new plans to scare the enemy."
Political divisions over nuclear negotiations have become more noticeable recently and Ahmadinejad's foreign-policy team has come in for increasing criticism. Critics argue that his policy has alienated many countries and undermined confidence in Iran's intentions. Other aspects of the president's policies indirectly affecting Iran's international standing have also been strongly criticized. His sweeping replacement of ambassadors and top officials in the Foreign Ministry as well as the appointment of younger individuals -- ideologically compatible with his thinking -- have also angered critics.
Some Dissenting Voices Heard
Another important cleric and a former interior minister, Abdul-Vahed Musavi-Lari, said: "Many people speak of national solidarity but, in practice, take a pair of scissors and eliminate the forces loyal to the system." He was quoted in the daily "Etemad" on March 11 as saying that experts and individuals who support the system are deprived of participating in decision-making processes. He said we cannot be advocates of national solidarity when we exclude the majority of loyal supporters from the process of decision making and implementation.
Concerns about Ahmadinejad's foreign policy became clearer on March 12 when, according to the Mehr news agency, the reformist faction in the parliament summoned the president to explain his nuclear policy. The next day, parliament deputy speaker Mohammad Reza Bahonar announced that either Ahmadinejad or Supreme National Security Council Secretary Ali Larijani will report to the assembly.
What The Street Thinks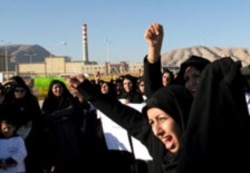 A demonstration in support of Iran's nuclear program outside the Isfahan uranium-conversion facility in Isfahan in January (epa)

IRANIANS SPEAK OUT ON THE DISPUTE: To find out more about what Iranians think about the international controversy over their country's nuclear program, RADIO FARDA asked listeners to express their views....(more)
See also:
Iran: Public Has Mixed Feelings On Nuclear Issue

THE COMPLETE PICTURE: RFE/RL's complete coverage of controversy surrounding Iran's nuclear program.
CHRONOLOGY
An annotated timeline of Iran's nuclear program.