Shi'ite leader Abd al-Aziz al-Hakim, who proposed the talks last week, said they would aim to dispel mounting accusations of Iranian interference in Iraq. Some Iraqi lawmakers say that the call for talks amounts to an admission by al-Hakim of the Iranian presence in the country.


Sunni Suspicions

Not surprisingly, Sunni Arab leaders have been the most vehemently opposed to the proposal. Saddam Hussein's Sunni Arab-dominated administration fought a bitter eight-year war with Iran in the 1980s. During this time and after, Hussein cultivated a fear among Sunni Arabs that Iran would undertake any means to bring down his regime and establish an Iranian-style government in Iraq -- all with the support of Iraq's Shi'a.

"This [call by al-Hakim] is a clear signal of the Iranian presence in Iraq.... When this initiative came, it was only to uncover this situation rather than to introduce a new one. It is an explicit demonstration of what is really happening," Sunni Arab parliamentarian Husayn al-Falluji said in a March 20 interview with RFE/RL's Radio Free Iraq (RFI).
"We need to stop the Iranian role by supporting and boosting Shi'ite patriots who do not accept Iranian influence in Iraq." -- Mish'an al-Juburi
The influential Muslim Scholars Association, which remains outside the government, called on "neighboring states" to stop harming Iraq in a March 18 statement posted to its website. "The Iranian interference in Iraqi affairs is not new and its harm has reached its peak. What is new, however, is [attempts by some Iraqis] to legitimize this interference and grant [Iran] an international cover based on a full disregard of Iraq's sovereignty and will," said the association, referring to al-Hakim.

In some cases, objection to the proposed talks is based on the supposition that the talks would be held without the presence of Iraqi political forces, and more specifically Sunni Arabs.

The Iraqi Accordance Front, the most powerful Sunni Arab grouping in parliament, has also condemned the proposed talks, saying they amount to a flagrant interference in Iraq's internal affairs. Front member Nasir al-Ani told "The New York Times" that it is the Iraqi government's responsibility to hold talks with Iran. "It's not up to the American ambassador to talk to Iran about Iraq," said al-Ani, the newspaper's website reported on March 18.
Former Sunni parliamentarian Mish'an al-Juburi, who is currently wanted in Baghdad on charges of corruption, told RFE/RL that allowing any of Iraq's neighbors to become involved in Iraqi affairs would be a dangerous development. "If we allow a country like Iran to interfere in Iraqi affairs and take it as a discussion partner on the future situation of Iraq, it can mean that all other neighboring countries -- Kuwait, Turkey, Syria, Jordan, and Saudi Arabia -- may be party to these type of discussions" in the future, he said.

Calling Iran's interference in Iraq "expansionism," al-Juburi added, "We need to stop the Iranian role by supporting and boosting Shi'ite patriots who do not accept Iranian influence in Iraq." Al-Juburi blamed outgoing Prime Minister Ibrahim al-Ja'fari for the growing Iranian influence in Iraq, saying al-Ja'fari "has surrendered Iraq to Iran. This man is the origin of the mistake. He proved unable to do anything to prohibit Iran, its intelligence and institutions, from taking hold on the whole of Iraq's executive bodies: economic, intelligence, and security" organs, al-Juburi said.

Kurds Recall Historic Betrayal

For some Kurds, the issue of Iran-U.S. talks is of special concern. Kurds claim they were betrayed by Iran and the United States after Iran concluded the 1975 Algiers Accord with Saddam Hussein. The accord, demarcating the Iran-Iraq border, led the Shah of Iran to withdraw his support for Iraq's Kurds. The United States followed suit, leaving the Kurds to fend for themselves against Hussein.

Nevertheless, Iran's borders were open to fleeing Iraqi Kurds -- and Shi'a -- during crucial periods in the 1980s and 1990s and many would argue that countless Iraqi lives were saved as a result.


Iraqi President Jalal Talabani, for one, has backed the talks. "I am one of those who support this and worked for this purpose. When I visited Tehran, I met with Iranian officials and raised this issue with them, since I believe that the Iraqi problem has become an international problem.... If this action serves Iraq and its sovereignty and independence -- provided there is no interference in its domestic affairs -- and if it serves security and stability, prevents infiltrations, and ends terrorism...then this is welcome," Talabani said at a March 19 press briefing in Baghdad.
Meanwhile, Fu'ad Husayn, spokesman for Kurdistan Regional President Mas'ud Barzani, told RFI in a March 20 interview that he believes the Kurdistan Coalition has no official position on the talks. "We must be realistic, as the borders of Iraq are open and every [neighboring] country has some influence in this country. It may be better, and maybe in the Iraqi interest, that these countries arrive at concluding agreements amongst themselves," Husayn said. "If the agreements are in the interest of Iraq, then why not?" He did caution, however, that the talks should not be held at the expense of the Kurdish issue.
Independent Kurdish politician Mahmud Uthman said that Iraq must be represented at any talks. "The dialogue between Iran and the United States alone will be at the expense of Iraq's interests," Uthman told London-based "Al-Hayat," the daily reported on March 18.
Shi'a Split Over Talks
Shi'ite leaders currently at odds with al-Hakim's Supreme Council for the Islamic Revolution in Iraq (SCIRI) over other issues related to the formation of the incoming government, such as cleric Muqtada al-Sadr's bloc in parliament and al-Ja'fari's Islamic Al-Da'wah Party, are vehemently opposed to the proposal.
Al-Sadr supporters in parliament -- like their Sunni Arab counterparts -- have claimed the very proposal itself amounts to tacit recognition of Iran's interference in Iraqi affairs.
Nadim al-Jabiri's Islamic Virtue Party, which is part of the United Iraqi Alliance (UIA) along with SCIRI and the Islamic Al-Da'wah Party, is also opposed to the talks, Al-Sharqiyah television reported on March 18.
SCIRI member Rida al-Taqiy defended the proposal, however, telling "Al-Hayat" that the talks were necessary because they are obstructing talks over the formation of the next cabinet. "The U.S. Ambassador [Zalmay Khalilzad] has frequently accused the [UIA] of establishing relations with Iran in order to remain in power and control [Iraq's] resources and security. These accusations have a negative effect on the formation of the government because the [UIA] won a majority in parliament, which cannot be ignored in the government formation."
Former Shi'ite parliamentarian Ali al-Dabbagh told Paris-based "Le Monde" that while al-Ja'fari is very much aware of Iranian infiltration in the Interior Ministry, he is reluctant to do anything about it, the daily reported on March 17. Al-Dabbagh withdrew from the UIA in October to protest the alliance's monopolization of power in the transitional government.
If al-Ja'fari is indeed hesitating to publicly confront Iran's growing role in Iraq, it may be because of his diminishing influence in the government and the fact that any infiltration -- though it may have occurred without his knowledge -- came under his administration. Al-Ja'fari has also clashed with SCIRI after al-Ja'fari beat out SCIRI's nominee to the premiership, Adil Abd al-Mahdi,
by one vote in February
.
Former Prime Minister Iyad Allawi told Reuters in a March 21 interview that he supports the talks, but only if Iraqi officials, and regional Arab states like Egypt and Saudi Arabia, were represented at the talks. "It would be inappropriate for two countries to discuss the affairs of the people of a third country," Allawi said. "The Iraqi political blocs, as well as the region, should be a major part of these discussions."
Iraq And Iran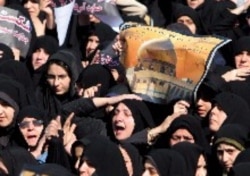 Iranian Shi'a protesting the Golden Mosque Bombing in Iraq on February 24


WHAT IS GOING ON? On March 8, RFE/RL's Washington office hosted a roundtable discussion on relations between Iraq and Iran. Although most analysts agree that Iran has been actively involved in Iraq since the U.S.-led military operation to oust former Iraqi President Saddam Hussein, they continue to debate the nature, extent, and intent of that involvement.
The RFE/RL briefing featured WAYNE WHITE, former deputy director of the U.S. State Department Bureau of Intelligence and Research's Office of Analysis for the Near East and South Asia, and A. WILLIAM SAMII, RFE/RL's regional analyst for Iran and editor of the "RFE/RL Iran Report."
LISTEN
Listen to the complete RFE/RL briefing (about 75 minutes):

Real Audio
Windows Media
RELATED ARTICLES
Iran/Iraq: Bilateral Ties Improving Despite U.S. Worries
Renewed Speculation About Tehran And Instability In Iraq
Iran/Iraq: Neighbors Mending Ties, But Outstanding Issues Remain
ARCHIVE
RFE/RL's
coverage of Iran
. RFE/RL's
coverage of Iraq
.