The Kremlin's strong vocal support for, and recognition of Viktor Yanukovych's victory in Ukraine's November 2004 presidential election backfired when the world's attention turned to the hundreds of thousands of Ukrainians who took to the streets in protest.

Once Bitten, Twice Shy
When all was said and done, what became known as the Orange Revolution succeeded in overturning the results and forcing new elections -- which were won by the Western-leaning Viktor Yushchenko.

The development was a devastating political fiasco for Russia as a whole and for Vladimir Putin personally.

This time around, Russia's politicians have kept a relatively low profile and largely avoided making statements regarding the parliamentary elections that will take place in Ukraine on March 26.

Eyes On Europe
There at least three plausible reasons for this:

First, despite Ukraine's current economic difficulties and the public's disillusionment with the government of Prime Minister Yuriy Yekhanurov, the country's political forces have by and large moved away from Russia's interests. Moscow can today rely only on the support of one small coalition in Ukraine, the People's Opposition bloc led by Progressive Socialist Party head Natalya Vitrenko.

After having enjoyed Moscow's unconditional support in 2004, Viktor Yanukovych's Party of Regions has since visibly distanced itself from Russia. Following the mood of its constituency, the Party of Regions opened to the possibility of integration with Europe, and referred only to the need to maintain good-neighborly relations with Russia.

Kyiv-based political analyst Wolodimir Malenkovich explained the political climate in a comment in "Argumenty i fakty," No. 12. "Although polls show that the number of Ukrainians who want a rapprochement with the European Union are almost the same as those who prefer to be closer to Russia, one should not be misled -- once the choice becomes reality, Ukrainians will lean towards Europe," he said.

Not Open To Advice
A second possible reason for Russia's silence is that in contrast to the 2004 election campaign, when Russian spin-doctors were the main consultants of Ukrainian political parties and television channels -- none of the participants in the upcoming parliamentary elections are employing the help of Russian political advisers.

Gleb Pavlovsky, a key adviser to the head of the Russian presidential administration and an active player in the 2004 Ukrainian campaign, said in a March 19 interview with Russia's NTV that Ukraine's current political scene is no longer divided between Russia and the West. Rather, he said, Euro-Atlantic orientation is at the center of political debate.

For these elections, Ukraine's politicians looked to the West for advice. Yushchenko's Our Ukraine bloc brought in two consultants who were prominent figures in the administration of former U.S. President Bill Clinton -- former Chief of Staff John Podesta and former Press Secretary Michael McCurry.

Meanwhile Paul Manafort, who managed the campaigns of former U.S. presidents Ronald Reagan and George Bush Sr., is consulting Yanukovych's Party of Regions. And Yuliya Tymoshenko, whose bloc is vying for second place in the parliamentary elections, benefits from the advice of European consultants, according to Pavlovsky.

Why Bother?
Such circumstances formulate a third reasonable consideration for Russia's inaction during this Ukrainian campaign -- realizing that it is currently unable to offer Ukraine an attractive political models to follow, and with little reason to believe that Ukraine's policies toward it will change after the vote, Russia has simply decided to sit this one out.
Torn Between East And West
Torn Between East And West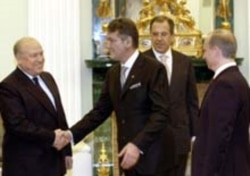 Yushchenko (center) with Russian Ambassador to Ukraine Viktor Chernomyrdin (left), Russian Foreign Minister Sergei Lavrov (rear), and Russian President Vladimir Putin (AFP file photo)
IN WHOSE ORBIT? Just over a year ago, tens of thousands of Ukrainians led an extended public uprising that toppled the country's entrenched, pro-Russia regime. But the country remains deeply divided between the east, where ethnic Russians look toward Moscow, and the west, which yearns for deeper integration with Europe. Can Ukraine elect a legislature that represents this torn country? (more)
See also:
Moscow Silent In The Run-Up To Ukraine's Elections
Is Kyiv On Stable Path Toward Integration With World Economy?
Western Neighbors Keen To Help Transition To Democracy

Click on the image for background and archived articles about Ukraine's March 26 elections.




Click on the image to see RFE/RL's coverage of the Ukrainian elections in Ukrainian.