Central Election Commission Chairman Yaroslav Davydovych announced that by 4 p.m. Kyiv time, more than 40 percent of eligible voters had voted. The largest turnout was in the western Ukrainian city of Rivne (49.4 percent) and in the central Ukrainian city of Zhytomyr (46.3 percent). Both cities are considered strongholds of the pro-Yushchenko Our Ukraine bloc and the Yuliya Tymoshenko Bloc.
In the heavily populated eastern city of Donetsk, a bastion for former Prime Minister Viktor Yanukovych's Party of Regions, more than 44 percent had voted.
Similar high figures turned out in the western Ukrainian cities of Khmelnytsky, Ternopil, and Vinnytsia, all considered to be bastions of support for the Orange Revolution. In Dnipropetrovsk, a city believed to be pro-Yanukovych, almost 40 percent had turned out.
The lowest numbers of voters as of 4 p.m. were reported in Crimea, with turnout running at about 35 percent.
Polling stations work close at 10 p.m. Kyiv time.
(Click on the icon to view images of today's voting prepared by RFE/RL's Ukrainian Service with captions in Ukrainian. To follow the Ukrainian Service's coverage,
click here
.)
Torn Between East And West
Torn Between East And West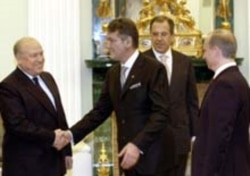 Yushchenko (center) with Russian Ambassador to Ukraine Viktor Chernomyrdin (left), Russian Foreign Minister Sergei Lavrov (rear), and Russian President Vladimir Putin (AFP file photo)
IN WHOSE ORBIT? Just over a year ago, tens of thousands of Ukrainians led an extended public uprising that toppled the country's entrenched, pro-Russia regime. But the country remains deeply divided between the east, where ethnic Russians look toward Moscow, and the west, which yearns for deeper integration with Europe. Can Ukraine elect a legislature that represents this torn country? (more)
See also:
Moscow Silent In The Run-Up To Ukraine's Elections
Is Kyiv On Stable Path Toward Integration With World Economy?
Western Neighbors Keen To Help Transition To Democracy

Click on the image for background and archived articles about Ukraine's March 26 elections.




Click on the image to see RFE/RL's coverage of the Ukrainian elections in Ukrainian.