A statement from the Foreign Ministry called on the EU and the United States to stop interfering in domestic affairs.
Meanwhile, opposition leader Alyaksandr Milinkevich has pledged further protests.
Activists gathered in the capital on March 26 in solidarity with those who have been detained.
Germany's Foreign Minister Frank-Walter Steinmeier criticized the use of force against demonstrators protesting against President Alyaksandr Lukashenka's recent controversial reelection and condemned the detention of opposition leader Alyaksandr Kozulin.
Kozulin and other activists were arrested on March 25.
The EU and the United States have condemned the election as flawed and said they will impose sanctions on Lukashenka's government.
(Reuters)
Minsk, March 25
THE AUTHORITIES GET TOUGH: RFE/RL's Belarus Service filed these images from the police action against the March 25 demonstration in Minsk. Photographs by Maks Kapran.
LISTEN
Listen to the sounds of the demonstration:
Real Audio Windows Media
Real Audio Windows Media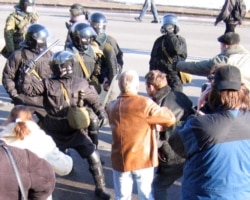 (RFE/RL)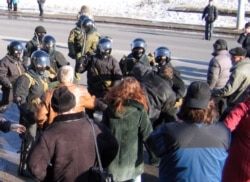 (RFE/RL)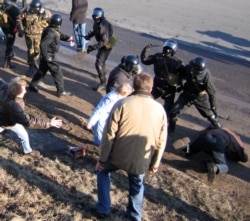 (RFE/RL)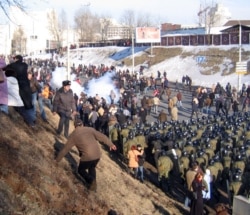 (RFE/RL)

THE COMPLETE PICTURE:
Click on the image to view a dedicated page with news, analysis, and background information about the Belarusian presidential ballot.


COVERAGE IN BELARUSIAN: Click on the image to view RFE/RL's coverage of the election campaign in Belarusian and to listen to RFE/RL's Belarusian Service.