PRAGUE, March 29, 2006 (RFE/RL) -- The U.S. ambassador to the United Nations, John Bolton, says the five permanent members of the Security Council are "very close" to agreeing on a statement about Iran's controversial nuclear program.
An agreement would end almost three weeks of haggling between Western powers and Russia and China. It would also be the first step towards holding Iran to account for its failure to address fully and transparently the international community's concerns that Tehran is seeking to develop nuclear weapons.
It is hoped a statement can be finalized ahead of a meeting of foreign ministers from the Big Five, plus Germany, in Berlin on March 30.
"We've been able to bring the Russians along to a degree, but we've had to work harder on that and on the Chinese." -- U.S. Secretary of State Condoleezza Rice
Responsibility for resolving the crisis was passed by the Security Council on March 8, when the UN's nuclear watchdog, the International Atomic Energy Agency (IAEA), asked the council to determine what action should be taken to prompt Iran to comply with international rules aimed at preventing the proliferation of nuclear weapons.
In remarks to journalists, Bolton indicated that he believes it is high time for the Security Council to "speak clearly" and "to speak soon."
"The council itself understands how important this is not just with respect to Iran's nuclear weapons program, but for the council itself," Bolton said on March 28.
Bolton gave no details of the content of the statement.
However, U.S. Secretary of State Condoleezza Rice suggested in comments to a U.S. Senate panel on March 28 that there has been a compromise between the Western powers' desire for a specific warning to Tehran, and the Russian and Chinese desire for a milder approach.
"We've been able to bring the Russians along to a degree," she said, "but we've had to work harder on that and on the Chinese."
Rice also reiterated that the United States views Iran as "the single biggest threat from a state" that it faces.
The Splits Within The Security Council
As Rice indicated, China is the country most inclined to continue talking to Iran rather than to issue ultimatums. The Chinese Foreign Ministry has welcomed the upcoming Berlin meeting, saying there is still room for negotiations even at this stage.
Foreign Ministry spokesman Qin Gang told a news conference in Beijing that China would also prefer to keep the issue of Iran's nuclear program within the forum of the IAEA, rather than to elevate it to the status of a matter for the full Security Council.
He also said Beijing hopes the Berlin meeting could lead to a breakthrough, resolving the Iran nuclear issue "appropriately,... through diplomatic means."
Moscow has steered a middle course, between Washington and Beijing. The heart of the dispute is whether Iran should be allowed to continue enriching uranium, a process that, as well as providing fuel to produce electricity, can prepare the way for nuclear weapons.
The West is adamant that Iran must not have this capability, and months ago Russia offered Iran a compromise deal under which Iranian uranium would be enriched in Russia, and not in Iran.
The aim of that proposal would be to make it easier to ensure that no enriched fuel could be diverted to military uses.
The Iranians have toyed with this idea, but given no firm commitment. An exasperated Russian Defense Minister Sergei Ivanov on March 28 called on Tehran to make clear whether it says "yes" or "no" to the plan.
Instead, the Iranian Embassy in Moscow the same day floated the idea of a nuclear fuel enrichment plant on Iranian soil, but with the involvement of other countries. There has so far been no reaction to this suggestion.

What Would Sanctions Mean?
What Would Sanctions Mean?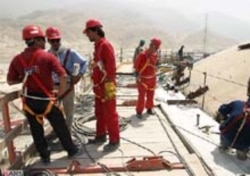 Economic sanctions could further undermine Iran's already shaky economy (Fars)


MOVING TOWARD SANCTIONS: If the United Nations Security Council imposes sanctions on Iran, domestic support for Iranian President Mahmud Ahmadinejad will wane, according to ALEX VATANKA, Eurasia editor for Jane's Information Group.
Vatanka told a February 24 RFE/RL briefing that "economic sanctions will hurt the average Iranian" and, consequently, many "will blame the ruling clerics" for making life difficult and "impairing the country's long term development."
Vatanka said sanctions would be a serious challenge to the Iranian government. If harsh economic sanctions were imposed, Iran's poorest population will be hurt the hardest -- and might react "as they did in the 1970s and protest in the streets." Sanctions on travel, Vatanka said, would hurt a many Iranians because "Iran is a nation of small traders" who depend on the ability to travel to earn an income. According to Vatanka, unemployment in Iran is estimated at 30 percent, "so small trading is essential to survival." Although current U.S. sanctions "haven't worked," he said, "Iranians fear an oil embargo." He stressed that "oil revenues are a major part of the economy, so it is critical to look at this sector."
Should negotiations with the European Union and the UN fail, Vatanka believes that Iran would follow a "North Korea model," since Ahmadinejad's base of support among the "Islamist militias" has been "urging withdrawal from the NPT [Nuclear Non-Proliferation Treaty]." The Iranian government's "tactic" so far, Vatanka said, is governed by the belief that "by shouting the loudest, you'll get concessions [from the West]."
LISTEN
Listen to the complete panel discussion (about 60 minutes):

Real Audio
Windows Media

THE COMPLETE STORY: RFE/RL's coverage of the controversy surrounding Iran's nuclear program.
CHRONOLOGY
An annotated timeline of Iran's nuclear program.