Czech Republic Braces For Flooding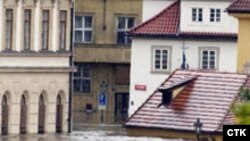 Prague was inundated with severe flooding in August, 2002 (CTK) March 30, 2006 -- Cities in the Czech Republic are bracing for floods, following a sudden spring thaw this week that released massive mountain snow packs.
Authorities say Moravia in the east and parts of southern Bohemia near the Austrian border are most at risk. Some rivers have risen to several times their normal levels.
The Czech capital Prague was inundated four years ago when summer storms pushed the Vltava rRver over its banks and caused more than $1 billion in damage. Workers in Prague have mounted temporary flood-protection barriers, though authorities say widespread flooding this time is not likely.
Officials in nearby Austria, Germany, and Slovakia have placed low-lying areas on flood alert.
(compiled from agency reports)