Western news agencies quote Ali Asghar Soltaniyeh, Iran's representative to the United Nation's nuclear watchdog agency, as saying Tehran's decision to pursue enrichment is not reversible.
His comments came after the UN Security Council on March 30 unanimously approved a statement demanding that Tehran suspend uranium enrichment activities and calling on the UN nuclear agency to report on Iran's compliance in 30 days.
British Foreign Secretary Jack Straw on March 30 said Iran could eventually face international sanctions if it refuses demands to halt enrichment.
But senior diplomats from Russia and China, speaking after a meeting of the five permanent Security Council members in Berlin, indicated their governments did not support sanctions or the use of force against Iran.
(compiled from agency reports)
What The Street Thinks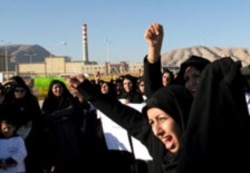 A demonstration in support of Iran's nuclear program outside the Isfahan uranium-conversion facility in Isfahan in January (epa)

IRANIANS SPEAK OUT ON THE DISPUTE: To find out more about what Iranians think about the international controversy over their country's nuclear program, RADIO FARDA asked listeners to express their views....(more)
See also:
Iran: Public Has Mixed Feelings On Nuclear Issue

THE COMPLETE PICTURE: RFE/RL's complete coverage of controversy surrounding Iran's nuclear program.
CHRONOLOGY
An annotated timeline of Iran's nuclear program.