PRAGUE, March 31, 2006 (RFE/RL) -- Iranian officials remain defiant about their nuclear program despite a warning by world powers that Tehran must abide by a UN deadline to halt its uranium-enrichment activities.
Former Iranian President Ayatollah Akbar Hashemi-Rafsanjani said today that the continuation of the "unjust" situation against Iran's nuclear case will cause "shame" for international organizations.
IAEA Director-General Muhammad el-Baradei is quoted as saying that sanctions are "a bad idea."
Rafsanjani warned that if the current situation continues it will damage not only Iran but also the region and could lead to "disaster."
No Affect On Tehran
Earlier today, Iran's top nuclear negotiator, Ali Larijani, also said Iran will remain steadfast in its pursuit of acquiring nuclear technology.
Larijani, the secretary of Iran's Supreme National Council, said that Western countries do not want Iran to access nuclear technology but he said Iran will keep pushing for its "legitimate" rights.
Iranian Foreign Minister Manuchehr Mottaki also insisted on March 30 that Iran will not give up its right to peaceful nuclear activities.
Mottaki described as a "bad move" a March 29 UN Security Council statement giving Iran 30 days to abandon uranium-enrichment activities and said that the decision marks "another dimension of hasty decisions."
"I need to emphasize here that the use of political methods in order to deprive nations of their inalienable right will not lead anywhere," he said. "It will only lead to the weakening of international treaties and crisis."
Parliamentarians In Step
Several Iranian parliament deputies also on March 30 rejected the deadline by the UN Security Council and said that Iran should continue its nuclear-fuel research.
Deputy Ali Asgari told the semi-official Mehr News agency that "the UN Security Council is not the end of the world and even if it issues a hundred statements, we will not retreat from our indisputable rights."
Asgari said that Britain and the United States should know that "Iran is not Afghanistan or Iraq" so that they cannot achieve their interests by making threats.
Soleiman Jafarzadeh, a member of the parliament's National Security Commission, said Iran will not pay the least bit of attention to the UN statement that he said was approved "under pressure from certain countries."
Council Decision Derided
Jafarzadeh said the call for Iran to halt uranium enrichment is "ridiculous." He described Iran as "the strongest and most effective country" in the region and warned that "the U.S. and Europe should know that they will eventually have to pay the price for their actions against Iran and [for making] such unfair decisions in the Middle East."
Another security commission member, Elham Aminzadeh, said that the UN decision against Iran will be registered as a "negative record" in the history of the UN.
She added that "if some countries want to impose only parts of [the Nuclear Nonproliferation Treaty] on us, and by doing so deny us our nuclear rights, then there is no use for us to remain a member of the treaty."
Despite such comments, Tehran has not yet formally reacted to the UN Security Council document.
Sadegh Zibakalam, a professor of political science in Tehran, says it is highly unlikely that Iranian officials will change their stance in the remaining time.
"We are having [Norouz] holidays in Iran and it is too early to comment on the reactions by Iranian officials," he said. "But right now we can say that the mere issuing of this resolution will not lead Iran to make a U-turn, therefore I don't think anything special will happen in this one month and Iran will stand by its position but, as Iran has said before, it has by no means closed the doors to negotiations."
Compromise Possible?
Zibakalam believes, however, that it is still possible that a compromise deal will be reached.
The UN statement does not say what consequences might follow if Tehran ignores the deadline.
British Foreign Secretary Jack Straw said on March 30 that Iran could eventually face international sanctions if it refuses demands to halt enrichment.
But senior diplomats from Russia and China, speaking after a meeting of the five permanent Security Council members in Berlin, indicated their governments did not support sanctions.
IAEA Director-General Muhammad el-Baradei is quoted by news agencies as saying that sanctions are "a bad idea."
Iranian Foreign Minister Mottaki said on March 30 in regard to possible UN sanctions that "different countries are saying that such a possibility, at least for the time being, does not exist."
But he added that Iran has readied itself to meet all possibilities.
What Would Sanctions Mean?
What Would Sanctions Mean?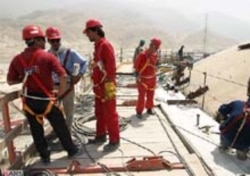 Economic sanctions could further undermine Iran's already shaky economy (Fars)


MOVING TOWARD SANCTIONS: If the United Nations Security Council imposes sanctions on Iran, domestic support for Iranian President Mahmud Ahmadinejad will wane, according to ALEX VATANKA, Eurasia editor for Jane's Information Group.
Vatanka told a February 24 RFE/RL briefing that "economic sanctions will hurt the average Iranian" and, consequently, many "will blame the ruling clerics" for making life difficult and "impairing the country's long term development."
Vatanka said sanctions would be a serious challenge to the Iranian government. If harsh economic sanctions were imposed, Iran's poorest population will be hurt the hardest -- and might react "as they did in the 1970s and protest in the streets." Sanctions on travel, Vatanka said, would hurt a many Iranians because "Iran is a nation of small traders" who depend on the ability to travel to earn an income. According to Vatanka, unemployment in Iran is estimated at 30 percent, "so small trading is essential to survival." Although current U.S. sanctions "haven't worked," he said, "Iranians fear an oil embargo." He stressed that "oil revenues are a major part of the economy, so it is critical to look at this sector."
Should negotiations with the European Union and the UN fail, Vatanka believes that Iran would follow a "North Korea model," since Ahmadinejad's base of support among the "Islamist militias" has been "urging withdrawal from the NPT [Nuclear Non-Proliferation Treaty]." The Iranian government's "tactic" so far, Vatanka said, is governed by the belief that "by shouting the loudest, you'll get concessions [from the West]."
LISTEN
Listen to the complete panel discussion (about 60 minutes):

Real Audio
Windows Media

THE COMPLETE STORY: RFE/RL's coverage of the controversy surrounding Iran's nuclear program.
CHRONOLOGY
An annotated timeline of Iran's nuclear program.