UN Extends Observer Mission In Abkhazia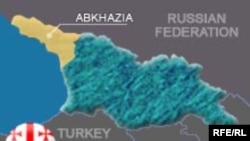 (RFE/RL) UNITED NATIONS, March 31, 2006 (RFE/RL) -- The UN Security Council today unanimously approved an extension of the observer mission in Georgia's separatist republic Abkhazia through the middle of October.
UN Secretary-General Kofi Annan had previously asked the council for the extension and stressed the need for the return of internally displaced people in the conflict between Georgia and Abkhazia.

Abkhazia broke away from Georgia following the collapse of the Soviet Union in the early 1990s. It's had de facto independent status ever since.

Today's renewal follows an agreement on March 29 between Georgia and Abkhazia to resume bilateral negotiations after a four-year break.