The travelers were returning home from visiting relatives when they were ambushed the night of March 31 near Balad Ruz, about 70 kilometers from Baghdad.
The motive for the attack is unclear. It occurred in a religiously mixed province which has recorded numerous acts of sectarian violence.
Meanwhile, American journalist Jill Carroll left Iraq to head home after her release by Iraqi abductors who held her for 82 days.
On the political front, pressure mounted on Iraqi Prime Minister Ibrahim al-Ja'fari to step aside as a nominee for another term.
A spokesman for the Shi'ite politician says he is not considering withdrawing.
(compiled from agency reports)
Sectarian Iraq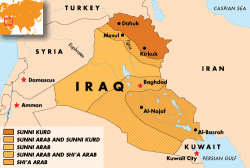 Click to enlarge the image.
SUNNI, SHI'A: Iraq is riven along sectarian lines, faults that frequently produce violent clashes and are a constant source of tension. Sectarian concerns drive much of Iraqi politics and are the main threat to the country's fragile security environment.


THE COMPLETE PICTURE: Click on the image to view RFE/RL's complete coverage of events in Iraq and that country's ongoing transition.