White House Asks Congress To Approve Indian Nuclear Deal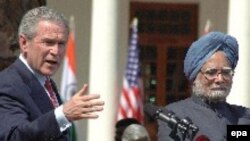 U.S. President George W. Bush (left) with Indian Prime Minister Manmohan Singh in New Delhi, March 2 (epa) WASHINGTON, April 5, 2006 (RFE/RL) -- U.S. Secretary of State Condoleezza Rice urged Congress today to approve a proposed deal with India under which the United States would share nuclear technology and India would permit international inspections of its civilian nuclear facilities.
Rice told the Senate Foreign Relations Committee that the deal would not lead to an arms race between India and neighboring Pakistan, which both have nuclear weapons. The secretary said it also wouldn't "complicate" U.S. policies opposing the nuclear programs of Iran and North Korea.
"While Iran and North Korea are violating their IAEA obligations, India is making new obligations by bringing it -- the IAEA -- into the Indian program and seeking peaceful international cooperation," Rice said. "Iran, and especially North Korea, are of course closed, non-democratic societies. India is a democracy. In fact, India is increasingly doing its part to support the international community's efforts to curb the dangerous nuclear ambitions of Iran."
U.S. President George W. Bush agreed to the terms of the deal during a visit to New Delhi last month.
Some members of Congress have expressed concern saying the deal could undermine non-proliferation efforts.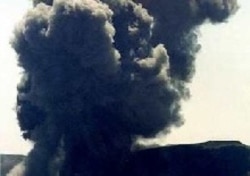 DECLARED NUCLEAR-WEAPONS COUNTRIES:
country warheads (est.) date of first test
United States 10,500 1945
Russia 18,000 1949
United Kingdom 200 1952
France 350 1960
China 400 1964
India 60-90 1974
Pakistan 28-48 1998
North Korea 0-18 2006
Notes:
Israel is widely believed to possess nuclear weapons, but it has not declared itself a nuclear-armed country.
South Africa constructed six uranium bombs but voluntarily dismantled them.
Belarus, Kazakhstan, and Ukraine all gave up the nuclear weapons that were on their territory when the Soviet Union collapsed in 1991.