PRAGUE, March 2, 2006 (RFE/RL) – The U.S. president today announced that he had successfully capped his trip to India with a nuclear deal his administration has been seeking for months:
"We concluded an historic agreement today on nuclear power," Bush said. "It is not an easy job for the [Indian] prime minister to achieve this agreement. I understand. It is not easy for the American president to achieve this agreement, but it is a necessary agreement. It is one that will help both our peoples."
The deal -- which still has to be approved by the U.S. Congress -- would open the way for lifting a U.S. ban on the sale of civilian nuclear technology to India. Under the deal, India would have to open some of its nuclear facilities to international inspection, something nationalists in India have strongly opposed.
Bringing India In From The Cold
The deal is a landmark because India has long been treated by Washington as something of a pariah over its nuclear program, which it has used to secretly become a nuclear power.
But the U.S. administration says it is time to recognize the reality that India is now a member of the nuclear weapons club with some 150 to 200 warheads in its arsenal.
"The deal reverses in many ways 40 years of U.S. policy and indeed global nonproliferation rules that nuclear cooperation is extended only to those countries that have agreed to forego nuclear weapons,"
And, the White House says, it is more important to embrace India as a democratic regional power than to continue a failed policy of nuclear containment.
"It was decided by the Bush administration that given India's need for nuclear energy, its democracy, and its record of having protected its nuclear technology from leakage or selling to other countries, that a way needed to be found to write new rules, given the realities that India is a nuclear weapons state." says Mark Fitzpatrick, a nuclear issues expert at the London-based International Institute for Strategic Studies.
India wants Western nuclear technology to expand its use of nuclear energy and free it of its overreliance on fossil fuels as its economy dramatically expands. In recent years the country's economic growth rate has soared past 7 percent annually.
The U.S. administration sees India as an increasingly attractive market for the West. Some U.S. policymakers also hope a powerful India could become a counterbalance to China, whose military buildup worries Washington.
Dangerous Precedent?
But the Bush strategy of embracing India as a nuclear power could face resistance in the U.S. Congress, which passed a law in 1978 that bars countries that did not sign the Nuclear Nonproliferation Treaty from having any civilian nuclear cooperation with the United States. That law remains in effect.
Bush's challenge now is to overturn that law, and the fight could be tough. Fitzpatrick says some see the new deal as opening the door for other states like Iran to secretly develop nuclear weapons in the expectation that they, too, will one day be forgiven.
"The deal reverses in many ways 40 years of U.S. policy and indeed global nonproliferation rules that nuclear cooperation is extended only to those countries that have agreed to forego nuclear weapons," Fitzpatrick says. "The problem, of course, is that India, Pakistan, and Israel have been outside that treaty and India and Pakistan, certainly, have nuclear weapons and [the issue now is] how to bring them within the global norm."
Under the deal, India agrees to voluntarily separate its nuclear energy program from its nuclear arms program. The United States and possibly other nuclear-supplier countries would provide technology and fuel to advance India's peaceful program. All facilities receiving such material would have to accept international inspections to assure it is not used for weapons purposes instead.
Indian Prime Minister Manmohan Singh welcomed the agreement today in a joint press conference with Bush. He called India's voluntary separation of military and civilian facilities the key to successful implementation.
"An important step forward is the preparation of a separation plan, a separation plan which separates the civilian nuclear program from the military program. That phase has been successfully completed," Singh said.
As the deal now heads to the U.S. legislature, Bush himself is set to move on to Pakistan on March 4. There, he faces an entirely new set of issues focused largely on the war on terrorism.
Violent Reminder
In a reminder that Pakistan is very much at the front lines of that war, a suicide bombing today in Karachi, killing five people including a U.S. diplomat. The bombing targeted the U.S. Consulate and Marriott Hotel in Pakistan's most important city.
Bush said at the press conference that the violence would have no impact upon his trip.
"Terrorists and killers are not going to prevent me from going to Pakistan," he said. "My trip to Pakistan is an important trip. It is important to talk with President [Pervez] Musharraf about continuing our fight against terrorists. After all, he has had a direct stake in this fight. Four times, the terrorists have tried to kill him."
Bush arrived in New Delhi on a three-day visit on March 1 after a surprise visit to Afghanistan, where thousands of U.S. troops continue to try to hunt down remnants of Al-Qaeda and the former ruling Taliban militia.
Who's Got The Bomb?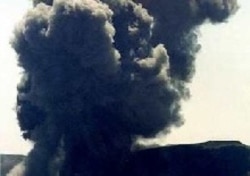 DECLARED NUCLEAR-WEAPONS COUNTRIES:
country warheads (est.) date of first test
United States 10,500 1945
Russia 18,000 1949
United Kingdom 200 1952
France 350 1960
China 400 1964
India 60-90 1974
Pakistan 28-48 1998
North Korea 0-18 2006
Notes:
Israel is widely believed to possess nuclear weapons, but it has not declared itself a nuclear-armed country.
South Africa constructed six uranium bombs but voluntarily dismantled them.
Belarus, Kazakhstan, and Ukraine all gave up the nuclear weapons that were on their territory when the Soviet Union collapsed in 1991.