Our Ukraine Takes Step Toward 'Orange' Coalition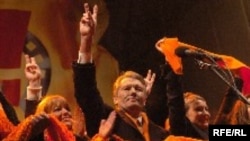 Yushchenko (left) and Tymoshenko, together again? (file photo) (RFE/RL) April 6, 2006 -- The electoral bloc of Ukrainian President Viktor Yushchenko, Our Ukraine, has taken a step toward forming a majority parliamentary coalition with its former Orange Revolution partners.
Our Ukraine spokeswoman Tetyana Mokridi told the AFP news agency that "a decision has been made" to create a coalition of "democratic forces."
Our Ukraine has drafted a protocol agreement forming the basis of a coalition between itself, the Yuliya Tymoshenko Bloc, and the Socialist Party.
The protocol calls for the coalition to work for the realization of Yushchenko's presidential program.
Our Ukraine is due to hold a news conference at 12 p.m. local time.
("Ukrayinska pravda," agencies)
RFE/RL's Election Coverage