Bush Was Behind Classified Intelligence Leak, Court Papers Say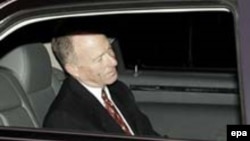 Lewis Libby (pictured), former chief of staff for Vice President Dick Cheney, gave sworn testimony that Bush authorized him to tell reporters classified information (file photo) (epa) April 6, 2006 -- Court documents say U.S. President George W. Bush authorized the disclosure of secret intelligence on Iraq to the media in order to make a case for the U.S.-led invasion of Iraq in 2003.
The documents quote the chief aide to Vice President Dick Cheney as saying Cheney said Bush "specifically authorized" information to be leaked from a classified intelligence assessment of Iraq.
Parts of the assessment were later printed in U.S. newspapers, bolstering the Bush administration's claim Saddam Hussein was trying to rebuild Iraq's weapons-of-mass-destruction programs.
Correspondents say there's no suggestion Bush acted illegally, but the documents may hurt him in opinion polls that show his support eroding because of the Iraq war.
(compiled from agency reports)