PRAGUE, 10 April 2006 (RFE/RL) -- The United States on April 9 described as "ill-informed" reports that it is preparing to use tactical nuclear weapons on Iran's nuclear facilities and said it is committed to diplomacy. But it has not yet denied the claim made in the "New Yorker" article.
Dan Bartlett, a counselor to President Bush, told the Associated Press that "the president's priority is to find a diplomatic solution to a problem the entire world recognizes."
"I have read the article in the 'New Yorker. I think it has nothing to do with reality. I don't know what is going on at the Pentagon...the Pentagon, but I can tell you that any military action is absolutely out of the [question] for us." -- Javier Solana
Planning For An Attack?
Bartlett spoke after the "New Yorker" article said the Bush administration -- while publicly advocating diplomacy to stop Iran from having nuclear weapons -- has increased clandestine activities inside Iran and intensified planning for a possible air attack.
Shahram Chubin, the director of studies at the Geneva Center for Security Policy, tells RFE/RL that there are lots of levels to the New Yorker article.
"The first level is that Seymour Hersh is an investigative journalist and he is the one who in December of 2004 gave the first indication that American policy was looking at the military option," Chubin says. "It doesn't mean everything he writes is correct but essentially the point of this is that this is one of a series of articles that suggests that the Americans are seriously looking at the military option in case the diplomatic process fails."
Speculations about possible military strikes against Iran come following the escalation of the crisis over Iran's nuclear program. Last month the UN Security Council gave Tehran 30 days to suspend its uranium-enrichment activities but Iranian officials remain defiant.
Iran says its nuclear program is peaceful but the U.S. accuses Iran of secretly developing nuclear weapons.
Looking For Regime Change
The "New Yorker" article cited unnamed current and former U.S. officials saying that the ultimate goal of President Bush in the confrontation with Iran is regime change. One unnamed former U.S. intelligence officer in the Hersh article said some in the U.S. government view Iranian President Mahmud Ahmadinejad as a potential Adolf Hitler. He said: "They say, 'Will Iran get a strategic weapon and threaten another world war?'"
Chubin says the mindset of the current U.S. administration is that the Iranian regime cannot be trusted -- especially since the hard-line Ahmadinejad came to power.
"The Washington administration believes that ultimately the real problem with Iran is not just its nuclear policies, it's also its policies on the Middle East peace process, the support for Hezbollah, Hamas, and Iran's general opportunistic interventions in the region and that there won't be any change in Iranian policy until the regime is changed," Chubin says.
"The Washington Post" also reported on April 9, quoting unidentified U.S. officials and independent analysts, that the Bush administration is studying options for military strikes against Iran as part of a broader strategy of coercive diplomacy.
The daily said that no attack is likely in the short term. But it said the U.S. wants to show Iran that it is serious and can use force if needed.
Chubin says lots of the leaks about the military options could also be designed for other purposes.
"The military option has to be kept on the table and has to be waved periodically for another reason: to remind China and Russia of the importance of diplomacy," Chubin says. "As long as there is no threat of military option they can simply say: 'well we won't accept the wording of this resolution, we won't accept limited sanctions,' and so on. But when they see a military option is seriously being planned then they have every incentive to continue down the diplomatic road."
Wary Of A Military Strike
Chubin believes that a military strike on Iran could be counterproductive.
Retired U.S. General Anthony Zinni, the former head of U.S. Central Command, told U.S. television on April 9 that he has no detailed knowledge of the alleged military plans, but he suggested that any plan to use military force against Iran is risky.
"The Iranians will retaliate," he says. "And they have many possibilities in an area where there are many vulnerabilities: from our troop positions to the oil and gas in the region that can be interrupted; [from] attacks on Israel to the conduct of terrorism."
Others analysts have also warned about the risks of a military strike. On April 9, British Foreign Secretary Straw said that a U.S. military strike is "not on the agenda."
EU foreign policy chief Javier Solana also today said that a military option is not on the table, and was dismissive of the "New Yorker" article.
Not Convinced...And Not Worried
"I have read the article in the 'New Yorker,'" Solana says. "I think it has nothing to do with reality. I don't know what is going on at the Pentagon, different levels of the Pentagon, but I can tell you that any military action is absolutely out of the [question] for us."
Iranian Foreign Ministry spokesman Hamid Reza Assefi said on April 9 that reports about a possible U.S. attack on Iran is psychological warfare by the United States that is rooted in "the rage and helplessness" of the U.S. administration.
He added that Iran is not afraid of threats and that it will stand by its right to nuclear technology.
The semi-official Mehr News Agency reports that Iranian Foreign Minister Manuchehr Mottaki has also dismissed the reports about U.S. attacks.
Mottaki reportedly told Switzerland's "Berner Zeitung" that "the U.S. government is not in a position to impose a hard and costly crisis on its taxpayers, therefore we do not imagine that it is seeking a new military confrontation with Iran."
What Would Sanctions Mean?
What Would Sanctions Mean?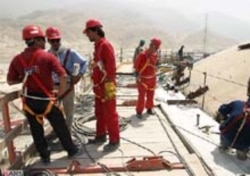 Economic sanctions could further undermine Iran's already shaky economy (Fars)


MOVING TOWARD SANCTIONS: If the United Nations Security Council imposes sanctions on Iran, domestic support for Iranian President Mahmud Ahmadinejad will wane, according to ALEX VATANKA, Eurasia editor for Jane's Information Group.
Vatanka told a February 24 RFE/RL briefing that "economic sanctions will hurt the average Iranian" and, consequently, many "will blame the ruling clerics" for making life difficult and "impairing the country's long term development."
Vatanka said sanctions would be a serious challenge to the Iranian government. If harsh economic sanctions were imposed, Iran's poorest population will be hurt the hardest -- and might react "as they did in the 1970s and protest in the streets." Sanctions on travel, Vatanka said, would hurt a many Iranians because "Iran is a nation of small traders" who depend on the ability to travel to earn an income. According to Vatanka, unemployment in Iran is estimated at 30 percent, "so small trading is essential to survival." Although current U.S. sanctions "haven't worked," he said, "Iranians fear an oil embargo." He stressed that "oil revenues are a major part of the economy, so it is critical to look at this sector."
Should negotiations with the European Union and the UN fail, Vatanka believes that Iran would follow a "North Korea model," since Ahmadinejad's base of support among the "Islamist militias" has been "urging withdrawal from the NPT [Nuclear Non-Proliferation Treaty]." The Iranian government's "tactic" so far, Vatanka said, is governed by the belief that "by shouting the loudest, you'll get concessions [from the West]."
LISTEN
Listen to the complete panel discussion (about 60 minutes):

Real Audio
Windows Media

THE COMPLETE STORY: RFE/RL's coverage of the controversy surrounding Iran's nuclear program.
CHRONOLOGY
An annotated timeline of Iran's nuclear program.