The aim of the Cairo meeting was to discuss the role of Arab League member states in Iraq, and implementation of the March 19 Khartoum Declaration, in which the member states pledged to support a proposal by league Secretary-General Amr Musa to hold a national-reconciliation conference for Iraq in June.
Iraq's relations with its Arab neighbors has been lukewarm since the fall of the Hussein regime. The league, comprised of Sunni Arab majority countries, opposed the war in Iraq and the subsequent U.S.-led occupation. It refused to recognize the Iraqi Governing Council when it was set up in July 2003, but agreed one month later to
work with the council while not officially recognizing it
as a legitimate government.
While the subsequent participation of the interim and transitional governments in the league was tacitly accepted, league member states continued to champion only the causes of Iraq's Sunni Arab community, much to the chagrin of Iraq's Shi'ite Arab and Kurdish communities. One such example was Musa's objection in fall 2005 to language in the draft constitution, which he claimed denied Iraq's "Arab identity."
Musa later changed his stance after he proposed, and drafters accepted, new language citing Iraq's connection to the Arab world. Although the dispute was settled quickly, Iraqi Shi'ite and Kurdish officials have since pointed out that the Arab League forfeited its right to intervene on Iraq by sitting out the conflict during the previous three years.
One Step Forward...
An improvement in relations between Iraq and the Arab League appeared on the horizon in fall 2005, after the league sponsored a meeting on Iraqi national reconciliation. The meeting, which included the participation of Sunni Arab groups outside the government, including groups affiliated with the "national resistance," was hailed as a step forward in the reconciliation process.
But that process has since stalled. Meanwhile, rumors swirled that diplomats and intelligence officials from a number of Arab League member states (minus Syria), had begun talks with Turkey over how to contain the growing Iranian influence in Iraq.
Iraqi Foreign Minister Hoshyar al-Zebari spoke about the Arab League's disregard for post-Hussein Iraq ahead of the March Khartoum summit. Speaking to Al-Arabiyah television on March 25, al-Zebari said the Arab states had not done enough since 2003 to help Iraq achieve security and stability. Regarding allegations about Iran's growing influence in Iraq, al-Zebari said, "Our reply [to Arab states] is that you should blame yourself, because your absence may have led to this."
Al-Zebari said that it was not too late for Arab states to play a greater role in Iraq, but said such a role "should be felt with steps and measures and not only through statements and communiques." Predictably, however, the Khartoum summit ended with just that: statements reiterating support for Iraq but pledging little else, other than to hold the June summit.
Musa did name Moroccan Ambassador Mukhtar Lamani as the Arab League's envoy to Iraq on March 27, but no date has been set for Lamani's arrival in Baghdad.
Little Criticism from Sunni Arabs
Across the region, there was little Sunni Arab criticism of Mubarak's statements about Shi'ite disloyalty. A few of Mubarak's aides made faint attempts to claim their leader's comments were misinterpreted, and Egyptian Foreign Minister Ahmad Abu al-Ghayt told reporters on April 11 that Mubarak only meant to warn the Iraqi people about the dangers of civil war. He said the talks would go on with or without Iraq.
Egyptian political analyst Usamah al-Ghazuli defended Mubarak's position, telling RFE/RL's Radio Free Iraq (RFI) on April 11, "All Arab leaders, when they speak on this issue, primarily have in mind...saving the Iraqi national territory from the dangers of disintegration."
Al-Ghazuli contended that there is "an apparent Iranian presence inside Iraq, and this presence is extremely dangerous," adding, "The Iraqi government must show flexibility and understanding for its position within the region."
Explaining the position of Arab states vis-a-vis Iraq, he added: "The region is extremely sensitive now. We are facing an unprecedented situation: [Iraq as] a genuine Arab country is almost outside the [Arab] developments due to its internal situation, due to the occupation it has been exposed to, and because it stands at the threshold of a civil war."
Iraqis Defend Shi'a
Meanwhile, Iraq's Sunni Arab community was quick to condemn Mubarak's statements. . "I say that the allegiance of Shi'ite Arabs in Iraq is to Iraq and Arabism, and not to any other side," Salih al-Mutlaq, head of the Iraqi Front for National Dialogue, said at an April 9 press briefing in Baghdad, RFI reported the same day. "Those who say that Shi'ite Arabs in Iraq are loyal to Iran are imagining this, because the nationalist movements in Iraq began with the Shi'ite Arabs," he added.
The Shi'ite-led United Iraqi Alliance posted a statement on its website on April 9 claiming Mubarak's comments "harmed millions of Shi'a in the world." Referring to the "Arab nation," the statement said Shi'ite blood "was spilled in more than one Arab and non-Arab territory in defense of the nation's honor, dignity, culture, and Islam. The Shi'a in Iraq are genuinely Arab and belong to well-known Arab tribes; no one can question their national loyalty to their country."
In Baghdad, Prime Minister Ibrahim al-Ja'fari read a joint statement by the Presidency Council, the prime minister's office, and the speaker of the Council of Representatives to reporters at an April 9 press briefing that said Mubarak offended Iraqis of various religious, denominational, ethnic, and political backgrounds. "We expect the Egyptian president to make amends," the statement added.
President Jalal Talabani, a Kurd, described Mubarak's statements as regrettable. "Historical facts and reality have always proved that members of the Shi'ite community have always been patriots, Arabists, and genuine Iraqis," he told the same April 9 press briefing.
Al-Ja'fari announced on April 11 that Iraq would boycott the Arab foreign ministers' meeting to protest Mubarak's remarks. He added that he didn't believe the slur would affect relations between Iraq and Egypt or Iraq and the Arab world in the long term. "We view what happened as urgent, but we do not wish to pin our relations with the Arab League and all Arab countries, even Egypt, on certain remarks. We took a position and we will note the reactions. We hope that the other side reconsiders their remarks and acts wisely so that we may pick up from where we last left off," RFI quoted him as saying.
Sectarian Iraq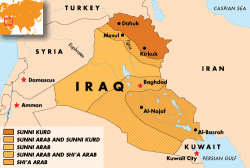 Click to enlarge the image.
SUNNI, SHI'A: Iraq is riven along sectarian lines, faults that frequently produce violent clashes and are a constant source of tension. Sectarian concerns drive much of Iraqi politics and are the main threat to the country's fragile security environment.


THE COMPLETE PICTURE: Click on the image to view RFE/RL's complete coverage of events in Iraq and that country's ongoing transition.