Enrichment marks a breakthrough for Iran in its stated pursuit of nuclear energy. But enrichment could also, the international community fears, be a major step towards the development of nuclear weapons by Iran.
In his announcement on April 11, President Mahmud Ahmadinejad made clear that Iran will press ahead with its program. It now aims to enrich uranium on an industrial scale, in defiance of a UN Security Council statement last month that gave Iran until April 28 to halt uranium enrichment.
Ahmadinejad's words prompted some strong criticism from countries such as Russia and China sympathetic to Iran's ambitions to develop a peaceful nuclear program.
But it was U.S. Secretary of State Condoleezza Rice who made one of the strongest statements.
When the UN Security Council next discusses Iran's nuclear program, "it will be time... for strong steps to make certain we maintain the credibility of the international community," Rice declared.
Rice said Iran's latest move will lead to the further isolation of the country.
The Russian Foreign Ministry urged Tehran to stop all enrichment work, saying its proclaimed technological advance ran counter to decisions by the International Atomic Energy Agency (IAEA) and the UN Security Council.
However, Russian Foreign Minister Sergei Lavrov urged the media "not to exaggerate" the importance of Iran's move "because Iran has never declared it seeks to possess nuclear weapons. On the contrary, Iran has declared repeatedly at the highest level that it has no such plans and that it intends to develop nuclear energy exclusively for peaceful purposes."
Lavrov also reiterated that force would be resolve the standoff with Iran.
China too was critical, saying Iran was out acting in line with the demands made by the international community.
But China's ambassador to the UN, Wang Guangya, warned against the imposition of sanctions, saying they "will not be helpful under the current circumstances."
He also said that the UN's nuclear watchdog, the IAEA, should remain in charge of managing the crisis.
Germany, France, and Britain all expressed their concern and called on Tehran to halt all sensitive nuclear activities.
U.N. Secretary General Kofi Annan urged all parties "to work more actively in search of a diplomatic solution and to cool down the rhetoric."
Despite the mounting criticism, Iranian officials remained defiant and ruled out any retreat.
President Ahmadinejad insisted on April 12 that Iran will continue until it achieves "full utilization of a nuclear cycle."
Former President Ali-Akbar Hashemi-Rafsanjani also said Iran would not give in to international pressure.
What The Street Thinks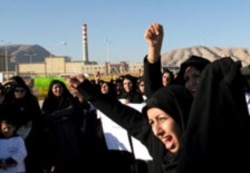 A demonstration in support of Iran's nuclear program outside the Isfahan uranium-conversion facility in Isfahan in January (epa)

IRANIANS SPEAK OUT ON THE DISPUTE: To find out more about what Iranians think about the international controversy over their country's nuclear program, RADIO FARDA asked listeners to express their views....(more)
See also:
Iran: Public Has Mixed Feelings On Nuclear Issue

THE COMPLETE PICTURE: RFE/RL's complete coverage of controversy surrounding Iran's nuclear program.
CHRONOLOGY
An annotated timeline of Iran's nuclear program.