U.S. Blocks Passage Of UN Resolution On Israel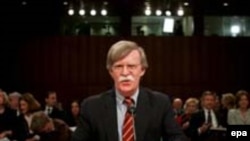 U.S. Ambassador to the UN John Bolton (file photo) (epa) April 14, 2006 -- The United States has blocked passage of a United Nations Security Council resolution that would have urged Israel to refrain from using excessive force against the Palestinians.
The U.S. ambassador to the UN, John Bolton, said the draft was unfairly critical of Israel, and Washington, which has a veto on the Security Council, could not support it.
The text was proposed by Qatar, the only Middle East nation now on the Security Council, in response to recent Israeli bombardments of the Gaza Strip that have resulted in at least 15 reported Palestinian deaths. Israel says it carried out the strikes to halt the firing of rockets into Israel by militant groups.
(compiled from agency reports)