Round-The-World Trekker To Be Expelled From Russia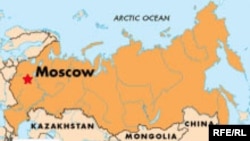 (RFE/RL) April 14, 2006 -- A Russian court today ordered two adventurers to be expelled from Russia, accusing them of entering the country illegally while on a walking tour around the world.
The court in Chukotka, in the Russian Far East, ruled that the British and American walkers had violated border-crossing formalities. The court ordered them to be sent back to the United States, and fined them $72 each.
Karl Bushby and Dmitri Kieffer were detained on April 1 after arriving from Alaska via the Bering Strait. Bushby had started his trek in South America and was planning to continue walking until he reached his native Britain. Kieffer had joined Bushby to help him cross the Bering Strait.
(AFP, Interfax)