Worldwide Condemnation Follows Tel Aviv Bombing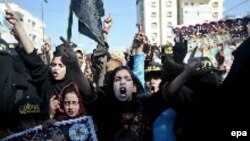 Palestinian supporters of the Islamic Jihad movement at a demonstration earlier this year in Gaza City (epa) April 17, 2006 -- There has been widespread condemnation by leaders around the world to today's Palestinian suicide bombing in Tel Aviv.
A 21-year-old suicide bomber blew himself up in a crowded fast-food restaurant in the Israeli city, killing 10 people, including himself. Scores of people were injured.
The militant Palestinian group Islamic Jihad claimed responsibility.
The United States, Russia, Germany, France, and Jordan were among the countries that denounced the attack on innocent civilians.
The European Union's foreign policy chief, Javier Solana, also condemned the bombing "in the strongest possible terms."
It was the first suicide bombing in Israel since Hamas took over leadership of the Palestinian Authority. Hamas spokesman Sami Abu Zuhri defended the attack as legitimate "self-defense."
"We assure our Palestinian people of the right to defend themselves," Zuhri said. "This operation is surely a natural reaction to the continued Zionist crimes carried out against our Palestinian people. The Israeli occupation bears responsibility for the continuation of its aggression. Our people are in a state of self-defense and they have every right to use all means to defend themselves using all the means available."
Israeli Prime Minister Ehud Olmert said Israel reserved the right to take appropriate counter-measures.
(compiled from agency reports)