Kurdish Official Accuses Iran of Shelling Iraq
Peshmerga fighters in Iraq (file photo) (CTK) April 21, 2006 -- An official in the leading Patriotic Union of Kurdistan Party said today that Iranian forces shelled Iranian Kurdish guerrilla positions inside Northern Iraq.
Saad Pira said the shells hit Iraqi territory at Sidakan, north of the city of Irbil.
The guerrillas were reportedly members of the militant Kurdistan Independent Life Party (PJAK). There was no word on casualties.
(Reuters)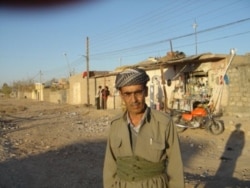 KURDISH AWAKENING: The ethnic Kurdish region in the northern part of Iraq has struggled in recent years to reestablish its cultural and political identity after decades of oppression under the regime of deposed Iraqi President Saddam Hussein. In December, RFE/RL correspondent Charles Recknagel traveled to this area and filed several reports:
Relative Peace Underscores Issue Of Kurdish Region's Future
Kurdish Culture Begins To Flourish In Kurdistan Region
Kurds Ponder How To Strengthen Autonomy After Elections