Russia Begins Delivery Of Defense Missiles To Belarus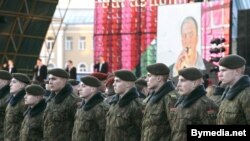 Belarusian soldiers line Minsk's October Square during the inauguration of President Alyaksandr Lukashenka on April 8 (file photo) (Bymedia.net) April 21, 2006 -- Belarusian Defense Minister Leanid Maltsau says Russia has started delivering to Belarus missile systems to be used in a joint Russian-Belarusian air-defense system.
He said all the S-300 missiles will be delivered by the end of this year. He was speaking after a meeting today in Minsk with Russian Defense Minister Sergei Ivanov.
Ivanov said he hopes that documents relating to the creation of the joint air-defense system will be signed this year.
The two ministers also discussed joint military staff exercises planned for June.
(ITAR-TASS, Interfax)