U.S. Official Says Iran May Have Material For 10 Weapons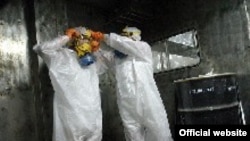 Iran says its nuclear enrichment is for peaceful purposes (official site) April 22, 2006 -- The senior U.S. diplomat for arms control says that if Iran's claims of producing enriched uranium are true, then Iran has likely accumulated enough material for more than 10 potential nuclear weapons.
Robert Joseph, undersecretary of state for arms control, on April 21 cited Iranian claims earlier this month to have converted enough uranium for 110 tons of UF-6 gas for enrichment in centrifuges, an amount he said could provide material for more than 10 weapons.
Joseph told reporters in Washington that the United States believes Iran is now moving quickly to establish its nuclear program.
"It's fair to say, I believe, that the Iranians have put both feet on the accelerator. They're moving very quickly to establish new realities on the ground, associated with their nuclear program," Joseph said.
Another senior U.S. diplomat, Nicholas Burns, called on Russia to cancel a planned sale of air defense missile systems to Iran because of Iran's nuclear development.
The Russian government has reiterated that it remains opposed to sanctions on Iran at the current time.
Iran denies any efforts to make nuclear arms.
(compiled from agency reports)