Alleged Bin Laden Audiotape Seeks To Rally Militants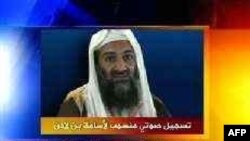 TV grab taken from Al-Jazeera during the broadcast of the audiotape (AFP) April 23, 2006 -- In a new audiotape allegedly by Osama Bin Laden, the Al-Qaeda leader says the international isolation of the Hamas-led Palestinian  government is proof of a "war by crusaders and Zionists against Islam."
The tape was broadcast on April 23 by Al-Jazeera, the pan-Arab satellite television network based in Qatar. It was the first purported recording in three months by the man blamed for masterminding the September 11, 2001, terrorist attacks on the United States.
Bin Laden also spoke about Iraq, and urged his supporters to prepare for a "prolonged war" against "crusader robbers" in Sudan's Darfur region. Some 300,000 mostly black African villagers have been killed in Darfur in attacks by Arab
fighters backed by Khartoum.
Bin Laden also urged Muslims to boycott the products of Western countries, including the United States, which backed Denmark following the publishing of cartoons depicting Prophet Mohammed.
(Reuters, AFP)
RFE/RL Afghanistan Report

SUBSCRIBE For regular news and analysis on Afghanistan by e-mail,
subscribe to "RFE/RL Afghanistan Report."