Speaking at a news conference following talks with Afghan President Hamid Karzai, Bush said U.S. forces and their allies are hunting for bin Laden, along with Afghan and Pakistani troops.
"We're making progress [on] dismantling Al-Qaeda," he said. "Slowly, but surely, we are bringing the people to justice, and the world is better for it as a result of our steady progress."
Bush also said the United States is proud of Afghanistan's progress as a nation in the face of rising violence.
Bush made an unannounced visit to Afghanistan earlier today. He is set to arrive in India in a few hours on his first visit to South Asia. There he will discuss an important nuclear agreement that could provide assistance to India's civilian nuclear industry.
(Reuters, AP)
Suicide Attacks In Afghanistan
Suicide Attacks In Afghanistan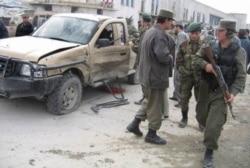 The results of a suicide-bomb attack in Kandahar Province on January 16 (epa)
Suicide bombers have struck more than two dozen times in Afghanistan since neo-Taliban and Al-Qaeda insurgents appear to have stepped up use of such attacks following the provincial and national elections of September 2005. While sporadic until recent months, suicide bombings have killed at least 90 people in Afghanistan since late 2001 -- including the attack in the days leading up to 9/11 that left legendary Afghan mujahedin commander Ahmad Shah Mas'ud dead. For an overview of suicide attacks in Afghanistan dating back to 2001, click here.