Armenians Commemorate Ottoman Empire Massacres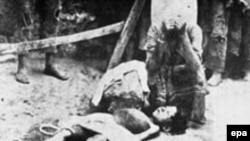 Victims of the Ottoman-era deportation and killing of ethnic Armenians (file photo) (epa) April 24, 2006 (RFE/RL) -- Armenia today is commemorating what it and other countries recognize as the genocide of an estimated 1.5 million Armenians by Ottoman Turks between 1915 and 1923.
Armenians around the world, including in the United States, hold special commemorations each year to honor the victims.
In Yerevan, tens of thousands of people are visiting the city's Genocide Memorial. In Tbilisi, several dozen Georgian Armenians demonstrated outside the Turkish Embassy to demand that Turkey recognize the massacre as genocide.
While more than 20 countries now officially describe the killings as genocide, the present-day Turkish government rejects use of the term genocide, saying the deaths were the result of the turmoil of war. It puts the number of dead at several hundred thousand, with most dying from hunger and illness when they were deported to another part of the empire.
(with additional material from ITAR-TASS)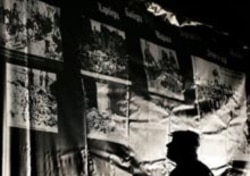 CALL IT GENOCIDE? Questions surrounding the mass killings of Armenians at the beginning of the last century continue to dominate relations between Armenia and Turkey. In April, Ankara proposed conducting a joint Armenian-Turkish investigation into the mass killings and deportations of Armenians during World War I.
Turkish leaders suggested that the two countries set up a joint commission of historians to determine whether the massacres carried out between 1915 and 1917 constituted genocide. Armenia, however, insisted it would continue to seek international recognition and condemnation of what it says was a deliberate attempt at exterminating an entire people....(more)
See also:
Armenians Mark 90th Anniversary Of Start Of Massacres
Armenia: Tragedy Remains On Europe's Political Map
ARCHIVE: For a complete archive of RFE/RL's coverage of Armenia, click here.