PRAGUE, April 24, 2006 (RFE/RL) – The Iranian president used his press conference to reiterate much of what he has said before about Tehran's controversial nuclear activities.
That included insisting that Iran's nuclear program is fully open to inspectors from the International Atomic Energy Agency (IAEA) and is for peaceful energy purposes only.
"I've announced it officially that we are a nuclear country," he said. "We have the know-how of uranium enrichment. We will use it for peaceful [purposes in the] energy [sector], medicine, agriculture, and industry. The [IAEA] cameras are there, you can come and see. They film it all the time and conduct inspections. All our nuclear activities are transparent."
And he contrasted this assertion of transparency with what he said were secret nuclear activities by other powers that are critical of Iran. "We are not like some [countries] who keep their [nuclear] program secret," he said. "Everything we have is open and this is the best proof of our cleanness and rightfulness."
Ahmadinejad also said he does not believe that those countries who are seeking an end to Iran's nuclear program are so irrational that they will try to impose sanctions.
Warning To Security Council?
But if there was nothing new in the Iranian president's remarks, the timing is significant.
By restating his conviction that Iran is not to be criticized, Ahmadinejad indicated Iran will not meet Security Council demands to end its uranium enrichment activities and improve its cooperation with arms inspectors before the IAEA reports on Iran's nuclear activities to the council on April 28.
The remarks also suggest mounting defiance to efforts by Washington and London to step up pressure on Tehran in the run-up to the IAEA's report.
Washington called last week for countries to work together "for the purpose of isolating the Iranians diplomatically and economically" if the Security Council cannot formulate a collective response to Tehran in a "reasonable" time.
Nicholas Burns, undersecretary of state for political affairs, also said that "it is not beyond the realm of possibility that at some point in the future" countries would individually or collectively take "action on sanctions" against Tehran.
Bringing China, Russia On Board
The U.S. administration gave two glimpses last week of what kind of diplomatic steps it would like to see. U.S. President George W. Bush on April 20 suggested Washington wants the Security Council to declare Tehran a threat to international peace and security.
"One of the tactics that I've been talking to the [Chinese] president about is the use of United Nations [Charter] Chapter 7 [on 'action with respect to threats to peace'] to send a common message to the Iranians that China and the United States and EU-3 countries are all deeply concerned about the Iranian ambition," he said during a joint press conference with visiting Chinese President Hu Jintao.
But that remark got no public endorsement from the Chinese president. Hu said only that China is "ready to work" with the United States "to properly address the Iranian nuclear issue through diplomatic means and negotiation."
Similarly, Washington last week signaled what kind of economic steps it favors by asking Moscow to stop a Russian sale of air-defense missile systems to Tehran.
But Burns, who reiterated the appeal on April 21, acknowledged that Moscow had already rejected the idea during his own visit to Moscow earlier in the week. Like Beijing, Moscow has called repeatedly for solving the Iran nuclear crisis only through negotiations.
That may mean that Washington's best hope for tougher measures now lies with the Europeans. The EU states have charged Iran with seeking a nuclear weapons-development program, but most have yet to say publicly whether they would support the United States and Britain in seeking to further pressure Iran diplomatically or economically.
Ahmadinejad's speech today could go a long way toward pushing the Europeans to now respond more clearly.
It could also raise pressure on Moscow and Beijing to either support the consolidating Western position on Iran, or demonstrate some progress of their own toward solving the crisis.
(RFE/RL correspondent Golnaz Esfandiari contributed to this report.)
What Would Sanctions Mean?
What Would Sanctions Mean?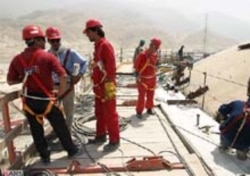 Economic sanctions could further undermine Iran's already shaky economy (Fars)


MOVING TOWARD SANCTIONS: If the United Nations Security Council imposes sanctions on Iran, domestic support for Iranian President Mahmud Ahmadinejad will wane, according to ALEX VATANKA, Eurasia editor for Jane's Information Group.
Vatanka told a February 24 RFE/RL briefing that "economic sanctions will hurt the average Iranian" and, consequently, many "will blame the ruling clerics" for making life difficult and "impairing the country's long term development."
Vatanka said sanctions would be a serious challenge to the Iranian government. If harsh economic sanctions were imposed, Iran's poorest population will be hurt the hardest -- and might react "as they did in the 1970s and protest in the streets." Sanctions on travel, Vatanka said, would hurt a many Iranians because "Iran is a nation of small traders" who depend on the ability to travel to earn an income. According to Vatanka, unemployment in Iran is estimated at 30 percent, "so small trading is essential to survival." Although current U.S. sanctions "haven't worked," he said, "Iranians fear an oil embargo." He stressed that "oil revenues are a major part of the economy, so it is critical to look at this sector."
Should negotiations with the European Union and the UN fail, Vatanka believes that Iran would follow a "North Korea model," since Ahmadinejad's base of support among the "Islamist militias" has been "urging withdrawal from the NPT [Nuclear Non-Proliferation Treaty]." The Iranian government's "tactic" so far, Vatanka said, is governed by the belief that "by shouting the loudest, you'll get concessions [from the West]."
LISTEN
Listen to the complete panel discussion (about 60 minutes):

Real Audio
Windows Media

THE COMPLETE STORY: RFE/RL's coverage of the controversy surrounding Iran's nuclear program.
CHRONOLOGY
An annotated timeline of Iran's nuclear program.