Triple Explosions Kill At Least 23 At Egyptian Resort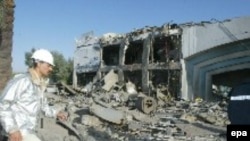 The Egyptian resort of Sharm el-Sheikh was bombed in July, 2005 (epa) April 25, 2006 -- Egyptian officials say the death toll from three bomb explosions in the Sinai seaside town of Dahab has risen to at least 23, with 62 injured, some seriously.
Egyptian security officials say the wounded included foreigners -- among them Danes, Britons, Italians, Germans, French, a South Korean, a Lebanese, a Palestinian, an American, an Israeli, and an Australian.
There has been no immediate claim of responsibility.
The nearly simultaneous bombings hit the Egyptian beach resort yesterday at the height of the tourist season. The blasts came a day after Islamist militant Osama bin Laden issued an audio-taped warning Westerners.
Egyptian President Hosni Mubarak called the explosions a "sinful terrorist action." U.S. President Bush also condemned the attacks.
Dahab is popular with European, Israeli, and Egyptian tourists.
(compiled from agency reports)