The warning came today from Iran's top nuclear negotiator, Ali Larijani, at a conference in Tehran.
"I have clearly said that if you impose sanctions, Iran will suspend its relations with the IAEA," he said. "This is what you will get [by imposing sanctions]. Will it help this problem? If you are seeking to put Iran within the framework [of international law] because of its nuclear case, you should reach an agreement on this framework with Iran. You cannot design a framework for us by force."
Speaking shortly afterward in Athens, U.S. Secretary of State Condoleezza Rice said Iran's declaration could only deepen its international isolation.
The UN Security Council has given Iran until April 28 to suspend all uranium enrichment activities or face possible sanctions.
(compiled from agency reports)
What The Street Thinks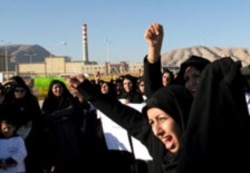 A demonstration in support of Iran's nuclear program outside the Isfahan uranium-conversion facility in Isfahan in January (epa)

IRANIANS SPEAK OUT ON THE DISPUTE: To find out more about what Iranians think about the international controversy over their country's nuclear program, RADIO FARDA asked listeners to express their views....(more)
See also:
Iran: Public Has Mixed Feelings On Nuclear Issue

THE COMPLETE PICTURE: RFE/RL's complete coverage of controversy surrounding Iran's nuclear program.
CHRONOLOGY
An annotated timeline of Iran's nuclear program.