Former Foreign Ministers Urge Direct Talks With Iran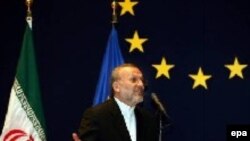 Iranian Foreign Minister Manuchehr Mottaki at the European Commission (file photo) (epa) PRAGUE, April 26, 2006 (RFE/RL) -- A group of former foreign ministers from Europe and North America have expressed concern about reports that the United States may be actively planning to launch military strikes against Iran's nuclear facilities.
In an open letter published today in the "International Herald Tribune," they call on the Bush administration to hold direct talks with Iran over its nuclear program.
Among the signatories are Madeleine Albright of the United States, Joschka Fischer of Germany, and Hubert Vedrine of France.
The United States has said it wants the nuclear standoff with Iran to be resolved diplomatically, but U.S. President George W. Bush has not ruled out military action.