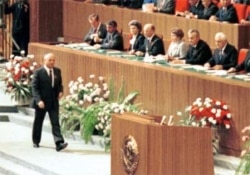 Mikhail Gorbachev prepares to address the 27th Congress of the Communist Party of the Soviet Union in Moscow on March 1, 1986, seven weeks before the Chornobyl accident (TASS)

SOVIET TELEVISION: Listen to the April 28, 1986, announcement on Soviet television of the Chornobyl nuclear accident two days earlier: Real Audio Windows Media
"There has been an accident at the Chornobyl nuclear power station. One of the atomic reactors has been damaged. Measures are being taken to eliminate the consequences of the accident. Assistance is being given to the injured and a government commission has been set up."
TELLING THE NATION: Listen to an excerpt from May 14, 1986, address to the nation by Soviet leader MIKHAIL GORBACHEV, in which he acknowledges the disaster for the first time and discusses measures being taken to limit the damage: Real Audio Windows Media
"All of you know that we have been struck by a misfortune recently -- the accident at the Chornobyl nuclear power plant. It has painfully affected the Soviet people and troubled the international community. We have, for the first time, confronted in reality the dreadful force of nuclear energy that got out of control. Considering the extraordinary and dangerous character of what happened in Chornobyl, the Politburo [of the Central Committee of the Communist Party] has taken in its hands all organization of efforts to eliminate the disaster and confine its consequences as soon as possible. The party, Soviet and economic authorities of Ukraine and Belarus have assumed an enormous share of work and responsibility. As of today 292 people have been hospitalized with radiation sickness of various levels of severity. Seven of them have died. On behalf of the Central Committee of the [Communist Party of the Soviet Union] and the Soviet government, I express deep sympathy to the families and relatives of those who have died, their colleagues, all those who have suffered from this misfortune, who have endured personal grief."
Read RFE/RL's coverage the 20th anniversary of the Chornobyl accident:
What Lessons Have Been Learned?
Liquidators Recall Disaster, Speak Of Life After
Photographers Aim To Keep Memory Of Disaster Alive
A Nuclear Nightmare Becomes A Political Disaster
Greenpeace, Others Challenge IAEA Report On Disaster Consequences
The Catastrophe's Political Fallout
LOCAL COVERAGE: Click here to see RFE/RL's coverage of Chornobyl in Russian, Ukrainian, or Belarusian.

Click on the icon to view the slideshow